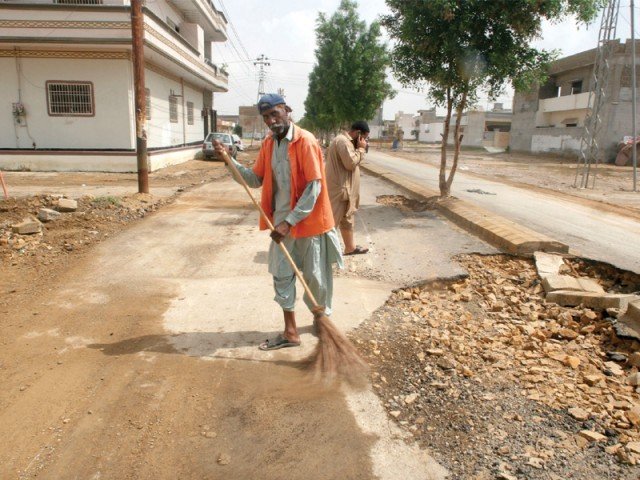 ---
KARACHI:



The National Accountability Bureau (Nab) came swooping down on corrupt officers in the Sindh government and they were left with no option but to run for cover, leaving the civic agencies in Karachi nearly unmanned.




The departments that are missing senior officers include the Karachi Metropolitan Corporation (KMC), the Sindh Building Control Authority (SBCA), the Karachi Water and Sewerage Board, etc. The officers started fleeing the country soon after Nab and Rangers raided a few offices and managed to arrest several officials for corruption.

SBCA director-general Manzoor Qadir and Fishermen Cooperative Society chairperson Nisar Morai left the country soon after Nab and Rangers raided their offices. "Nisar Morai managed to escape soon after his vice-chairperson Qamar Sultan Siddiqui was arrested and made startling revelations about widespread corruption in the cooperative society," said a provincial government official.

Read: Restaurants on greenbelt: Municipal commissioner central suspended

"KMC administrator Saqib Soomro abruptly left for London via Islamabad," said a KMC official, adding that the absence of a senior authority is affecting the working of the department. "Ahead of the monsoon season that is likely to start next week, KMC officials are reluctant to start the annual cleanliness drive of stormwater drains," he said. "The offices of those who are supposed to look after the civic agencies in the metropolis remain locked and no one knows their whereabouts."

The officer revealed that even those officers who are still in the country are not showing up to work, fearing arrests. "It seems Karachi will sink in case of a heavy downpour in the upcoming monsoon season," he warned.

In the absence of the KMC administrator, his charge has been given to Commissioner Shoaib Siddiqui, who is juggling at least three titles. The government has, however, yet to issue a formal notification putting KMC under his control, Siddiqui told The Express Tribune. He did, however, issue directives to the municipal commissioners to start cleaning the drains.

On who will manage KMC's affairs in the absence of its administrator, Siddiqui said the local government minister and secretary can do it.

Caught in time

Some officers were able to leave the country in time or apply for pre-arrest bail in court but others have not been so lucky. Excise and taxation secretary Badar Jameel Mandhro and anti-corruption director Badar Channa are still in the custody of Nab. "Both were arrested from their offices over allegations of giving jobs against the rules and misappropriating millions of rupees," said an official privy to the development.

Read: As Karachi's drains turn into sewers, disaster hits when it rains

During interrogation, Mandhro has confessed to appointing a few people in the department in exchange of Rs2.5 million to Rs3 million when he was minority affairs secretary. Meanwhile, Nab also arrested five officials from the Lines Area Redevelopment Project on June 16. These officers also confessed to their involvement in land grabbing of over 1,200 plots worth billion of rupees through 'china cutting'.

Who's next?

According to an official privy to the development, Nab is looking into the cases of education secretary Dr Fazlullah Pechuho and information and archives secretary Zulfiqar Ali Shehlwani. The latter is facing the charges of pocketing more than Rs400 million while giving advertisements to various newspapers and embezzling funds allocated for a facilitation centre.

Pechuho, who is also the brother-in-law of PPP co-chairperson Asif Ali Zardari, tried to leave the country a few days ago but was prevented from doing so by the FIA at Karachi airport.

Mincing words

For his part, Sindh Information Minister Sharjeel Memon said that some sections of the media have started propaganda against them and it was nothing but a malicious campaign. "Some sections of the media ran a fake story that the Rangers raided and recovered Rs2 billion from my house," he said, diverting the question. "But later the television channel apologised when I sued it."

For Sindh Chief Minister Qaim Ali Shah, the Nab arrests are merely a conspiracy against his government and the party. "No one in our party is involved in corruption. We will prove that our leaders are innocent."

Published in The Express Tribune, June 27th, 2015.
COMMENTS
Comments are moderated and generally will be posted if they are on-topic and not abusive.
For more information, please see our Comments FAQ