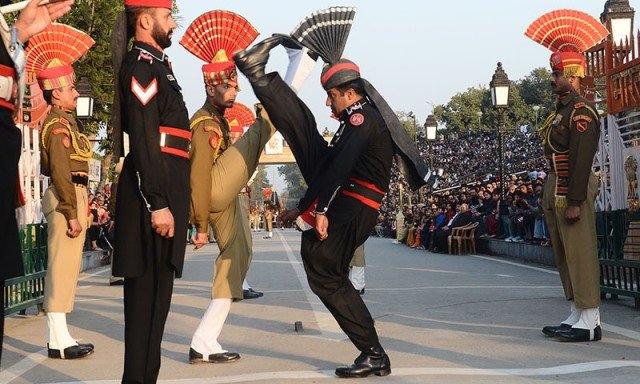 ---
NEW DELHI: The BJP-led Indian government is planning month-long celebrations with an overwhelming cost of INR350 million to honour soldiers who fought the 1965 war with Pakistan, India's NDTV reported on Thursday.

Citing government sources, the news outlet said the celebrations, starting from August 28, would include a mini parade at Rajpath, the Delhi boulevard that recently hosted a record-breaking yoga performance.

Read: India bends it like Modi on first World Yoga Day

The parade will be held on September 20, and will include, apart from a show of military might, a thrilling aerial display with commandos slithering down ropes from helicopters.

The Modi government will emphatically celebrate the 1965 war as 'India's victory' on the fiftieth anniversary of the 1965 Indo-Pak war.

Meanwhile, some retired soldiers of the Indian army have already refused to attend the celebrations as they criticize the BJP government of not implementing the 'One Rank One Pension bill'.

Read: Controversy: Indian vice president not invited to Yoga Day celebration in Delhi

"We will not attend any government function till OROP in implemented," said Major General (retd) Satbir Singh of the Indian Ex-Servicemen Movement.

The 1965 war started following Pakistan's Operation Gibraltar, which was designed against the illegal Indian occupation of Jammu and Kashmir region.

Both India and Pakistan claim victory to the seventeen-day war which caused thousands of casualties on both sides and also witnessed the largest tank battle since World War II.

Read: China blocks India's anti-Pakistan move in UN

The hostilities between India and Pakistan ended after a ceasefire was declared following diplomatic intervention by the Soviet Union and USA and the subsequent issuance of the Tashkent Declaration.

The article originally appeared on NDTV.
COMMENTS (42)
Comments are moderated and generally will be posted if they are on-topic and not abusive.
For more information, please see our Comments FAQ