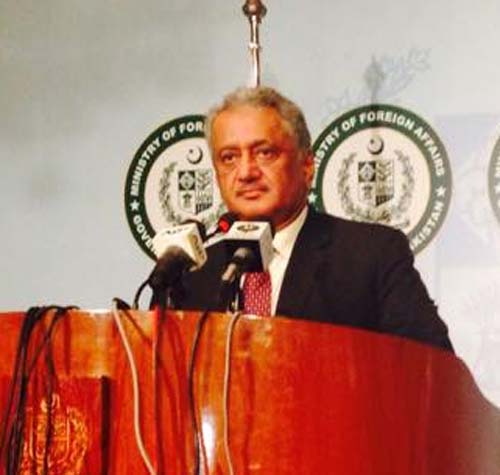 ---
ISLAMABAD: Pakistan on Thursday dismissed Afghan intelligence claims that an officer of Pakistan's spy agency, the Inter-Services Intelligence, and the Haqqani Network were involved in the attack on the Afghan parliament earlier this week.

Afghanistan's intelligence agency, the National Directorate of Security (NDS), alleged on Wednesday that the brazen attack on the parliament building in Kabul was planned in Peshawar.

"We reject these allegations. These allegations have been levelled against ISI and its officers in the past as well," Foreign Ministry spokesperson Qazi Khalilullah said.

Read: Pakistan, Afghanistan agree to share intelligence

"Pakistan is a well-wisher of Afghanistan and we are committed to good neighbourly relations and commitment to our relations with Afghanistan," Qazi said, while responding to a questions regarding the NDS's allegations reported by the Associated Press.

Taliban had claimed responsibility for Monday's attack that had killed two people. No MP was hurt in the three-hour standoff.

Read: Taliban insurgency: Two dead in Afghan parliament attack

"Mawlawi Shireen, the military commander of Haqani network, masterminded the attack and Bilal, an officer of the ISI provided financial and logistical support for it," NDS spokesperson Haseeb Sediqi told the media.

Sediqi could not provide any proof to substantiate his allegations and also claimed that about Rs7.5 million were spent on the attack.

The FO spokesperson said Pakistan and Afghanistan have been interacting at the highest level. "We have said in the past and I want to reiterate that enemies of Afghanistan are the enemies of Pakistan and a guiding principle of our relationship is that we will not allow our soil to be used against others."

Responding to a question about a recent meeting between the Afghan Taliban leaders and the Kabul-backed peace council in the Chinese city of Urumqi, Qazi said Pakistan had facilitated the meeting.

Read: Afghan Taliban feign ignorance over Sartaj Aziz's peace talks claim

"Will facilitate an Afghan-led and Afghan-owned reconciliation process," the spokesperson reiterated.

India trying to politicise UN with unfounded allegations: FO

Foreign Office said on Thursday India is trying to politicise the United Nations Security Council's Sanctions Committee by making unfounded allegations against Pakistan.

"A recent complaint by India against Pakistan was discussed in one of the regular meetings of the Sanctions Committee on purely technical ground and the committee decided not to take any action on the Indian allegations," Khalilullah said.

Khalilullah added, "Pakistan therefore rejects any insinuations and politically motivated moves and attempts that question its commitment to the UN Security Council's decisions."

Read: China blocks India's anti-Pakistan move in UN

"Pakistan in fact supports and respects the decisions of the Security Council while India on the other hand is in open violation of its various resolutions particularly relating to Jammu and Kashmir dispute," the spokesperson upheld.

Khalilullah's statement comes days after Indian Prime Minister Narendra Modi voiced concerns over China's move to veto a UN action against Pakistan for releasing alleged Mumbai terror mastermind Zakiur Rehman Lakhvi.

Read: Modi protests China's veto on Indian motion for UN action against Pakistan

Modi's outburst came after China blocked India's move in the United Nations for action against Pakistan.

As the UN Sanctions Committee met at India's request, a clarification was to be sought from Pakistan over Lakhvi's release in the Mumbai attacks trial but the Chinese representatives blocked the move on grounds that New Delhi did not provide sufficient information, official sources said.

In a letter to the current chair of the UN Sanctions Committee Jim McLay, India's permanent representative to the UN Asoke Mukherjee last month had said Lakhvi's release by a Pakistani court was in violation of the UN Resolution 1267 dealing with designated entities and individuals.

The sanctions measures apply to designated individuals and entities associated with terror groups including al Qaeda and Lashkar-e-Taiba (LeT), wherever located. The Sanctions Committee has five permanent and 10 non-permanent UN member states.

The release of Lakhvi had also raised concerns in the United States, UK, Russia, France and Germany with Washington calling for him to be re-arrested.

Lakhvi, 55, was arrested in December 2008 and was indicted along with six others on November 25, 2009 in connection with the 26/11 attack case. The trial has been underway since 2009. The Lahore High Court on April 9 ordered to set free Lakhvi.