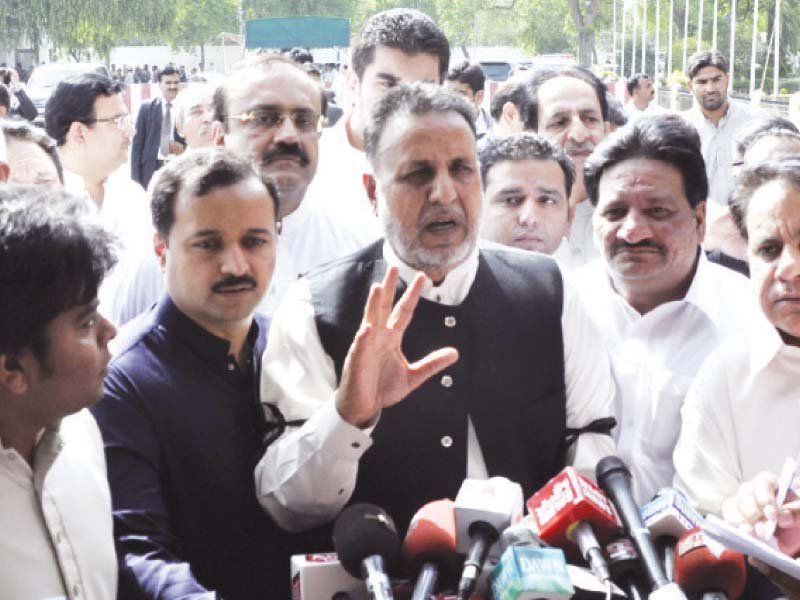 ---
LAHORE:



Shouts of "shame shame" and "jhootay" (liars) from members of the Opposition interjected Finance Minister Ayesha Ghaus's budget speech in the Punjab Assembly on Thursday. The Opposition recorded their protest loud and strong on the Assembly floor.




Leader of the Opposition Mehmoodur Rasheed, joined colleagues from the Pakistan Tehreek-i-Insaf, the Pakistan Peoples Party and the Pakistan Muslim League-Q, thumped their tables with the budget document and shouted slogans throughout the 70 minute duration of the budget speech.

Mian Aslam Iqbal, Atif Mehmood and Sibtain Khan led the sloganeering and sat on the floor of the House shouting Go Nawaz Go.

Rasheed kept interrupting Ghaus's speech by addressing the speaker directly. Although Speaker Rana Muhammad Iqbal kept requesting the Opposition benches to refrain from sloganeering they paid him no heed.

After the session, Rasheed said the government had belittled and insulted the Opposition by side-lining them over the last two years. He said the government did not disburse development funds to members of the Opposition for their constituencies. He said instead, defeated PML-N candidates in their constituencies were given the funds.

Rasheed said the government, which has had seven finance ministers in seven years, was incapable of translating the hopes and aspirations of people into a budget. He said the budget was utterly disappointing.

Rasheed said the government was fixated over Metro Bus projects and had failed to give any relief to people. He said 53 per cent of the previous year's provincial budget was unutilised.

"We will come to the Assembly with facts and figures on Monday to debate the budget." He said education and health had not been given as much importance as other infrastructure projects.

PPP's Faiza Malik said the budget had ignored the agriculture sector and had placed undue importance on the Metro Bus projects. She said while the government had announced a 14 per cent increase in the budget for education, it had failed to utilise last year's budget. She said the budget appeared to be a carbon copy of the federal budget.

Minister Rana Mashhood Ahmad Khan said the budget had incorporated the opinions of lawmakers and bureaucrats. He said the government had sought to reform the education and health sectors. The budgetary allocations for these sectors reflected the importance the government gave them.

Earlier, Ghaus had said that it was a proud moment for the women of the Punjab and the country that a woman was presenting the provincial budget of the Punjab. She said her appointment was a bold decision and that she had been involved in making the budget in the last two years.

Published in The Express Tribune, June 13th, 2015.
COMMENTS
Comments are moderated and generally will be posted if they are on-topic and not abusive.
For more information, please see our Comments FAQ