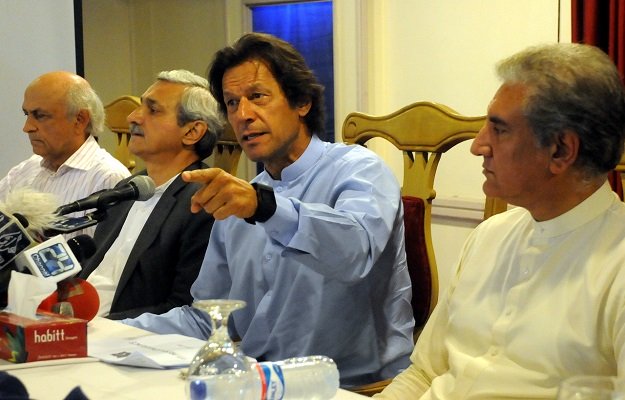 ---
ISLAMABAD: Coming up with new revelations to support his claim of alleged rigging in the 2013 general election, Imran Khan, chief of the Pakistan Tehreek-e-Insaf (PTI), on Friday said in 149 constituencies where more than 5% extra ballot papers were provided a whopping 143 non-PTI candidates turned triumphant.

"Once the party came to know that 11.7 million extra ballot papers were printed in these constituencies, it sought the record of Form-15 that presiding officer fills after the vote count and notes down the details of the number of ballot papers used and those returned unused," he told reporters.

The PTI chief shared findings of a consolidated report that his party compiled on the basis of records submitted before the inquiry commission, which is adjudicating charges of large scale rigging in the 2013 general elections.




He claimed that among the constituencies where more than normal (5%) ballot papers were printed and Form-15s were missing as well, prominent Pakistan Muslim League-Nawaz (PML-N) candidates won.

To substantiate their point of view, PTI report claims that in NA-125 from where Khawaja Saad Rafique had won, 28% extra ballot papers were printed, Form-15 for 75% polling stations are missing.

Similarly, in the constituency where Hamza Sehbaz Sharif, son of Punjab Chief Minister Shehbaz Sharif won, 21% extra ballot papers were printed and Form-15 for 28% polling stations were missing.

The list compiled by PTI also carries the name of Capt (retd) Safdar, son-in-law of Prime Minister Nawaz Sharif. In his NA-21 constituency, around 16% extra ballots were printed. From-15s for 24% polling stations are untraced.

Other constituencies in the PTI report where the party has correlated the publishing of extra ballot papers and large number of untraced Form-15 are: PML-N leaders like Khurram Dastagir Khan, Usman Ibrahim, Ghulam Rasool Sahi, Sohail Butt, Riaz Malik.

Imran claimed that the absence of 20,000 Form-15s implied that 25 million ballots were unaccounted for.

He defended the criticism against the winners of his party in whose constituencies extra ballot papers were also printed, saying that there were only six constituencies in which the PTI candidates were provided extra ballot papers.

In the vote audit process, other than the tally of used and unused ballot papers through Form-15, thumb verification on counterfoils of ballot copies through the National Database Registration Authority (Nadra) was an option, but that option also did not work.

He said around 6,802 polling bags containing the record of polled votes have been found unsealed while another 687 vote bags were missing altogether in different constituencies.

Published in The Express Tribune, June 13th, 2015. 
COMMENTS
Comments are moderated and generally will be posted if they are on-topic and not abusive.
For more information, please see our Comments FAQ