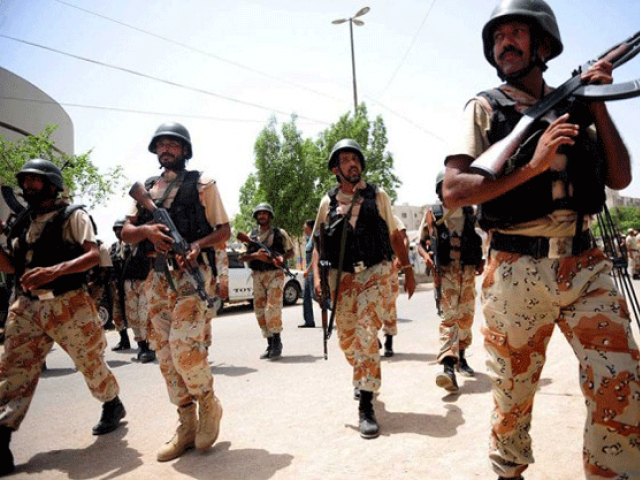 ---
KARACHI: Billions of rupees gathered through illicit means including extortion, land grabbing, illegal hydrants, smuggling are funneled by political parties, influential men, religious organisations, militants and even landlords towards criminal and terror related activities  in the province.

According to a statement released by the Sindh Rangers on Thursday, DG Major General Bilal Akbar briefed a Sindh Apex Committee focused on the sources and direction of funds for terror and criminal activities in the province.

DG Rangers presented details of coordinated system of funding for terrorist groups, target killers and other crimes before the apex committee.

He said that an estimated Rs230 billion per year were being generated through various illegal means.

The apex committee appreciated the suggestions from the Rangers and for detailed report decided to set up a committee which will address the funding sources for criminals.

Land grabbing

Regarding land grabbing, the DG said that `China-cutting' was a new aspect in the backdrop of crimes in Karachi. He added that land grabbing can be divided into three parts: construction on government land, encroachment on government land and private properties.

Those involved in the mafia include political parties, city district government, construction companies, estate agents and police officials. He said that they work under a coordinated system and most of them are patronised by a 'big political party of Karachi,' but other political leaders and builders were also involved in this racket.

Sustaining Lyari gang wars

The Rangers official said that factions of Lyari gang war received a steady supply of money from a number of sources that sustained it, and allowed it to purchase weapons.

According to details, money obtained illegally from the Karachi Fish Harbour was distributed among gang war activists and its various factions along with some top and influential personalities of Sindh.

It added millions of rupees were distributed among various Lyari Gang War factions on a monthly basis, which is used for the purchase of weapons and raising of armed groups.

Militant wings

The DG Rangers said that funds raised illegally were also channeled by political parties, religious groups, feudals and terrorists to raise militant wings.

He said that money obtained forcibly in the name of Zakat and Fitrana, sacrificial hides, which is estimated to be worth tens of millions of rupees annually, was an important source for terror activities.

The amount extorted from small markets, encroachers, graveyards, and schools also comes to tens of millions of rupees.

Further, money obtained from the smuggling of Irani diesel is also an important source of funding for terrorism and crimes.

Such money is used for raising private militias by political groups in Sindh and of feudals.

Some of the money obtained from smuggling is regularly sent to influential persons of Sindh.

In other illegal activities, a big portion pertains to illegal supply of water from which tens of millions of rupees are obtained annually.

Furthermore, the system of ghost employees had become the source of tens of millions of rupees monthly. Such black money is used for promoting other crimes and terrorism.

Criminal activities are also supported using through illegal marriage  halls, illegal parking, business of narcotics under political sponsorship, match fixing, beggar mafia, cyber crimes, foreign funding of madrassas.
COMMENTS (12)
Comments are moderated and generally will be posted if they are on-topic and not abusive.
For more information, please see our Comments FAQ