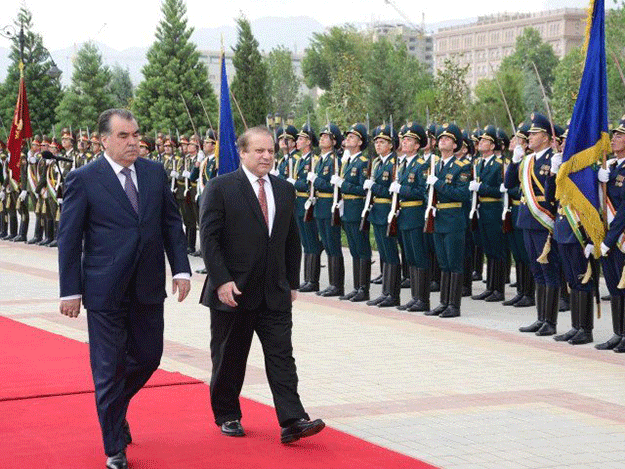 ---
Prime Minister Nawaz Sharif on Tuesday termed water crucial for the achievement of many of Pakistan's goals, as he addressed the International Conference on the Implementation of the International Decade for Action "Water for Life" in Tajikistan; on his official two-day visit. 

"From poverty alleviation and cross-sectoral economic growth to environmental sustainability and food and energy security, water is central to achieving these goals," he said as he addressed the Conference.

The premier highlighted the importance of water and that there was now greater awareness at a national, regional and global level about the impact of water on the planet as a whole.

"The provision of safe and affordable water to all, sanitation, sustainable management of water resources, investment in water infrastructure and trans-boundary cooperation have been some of the issues on the global agenda for quite some time," PM Nawaz said; adding that "The UN has recognised access to safe drinking water and sanitation as a human right."

Read: We are solely to be blamed for the water crisis in Pakistan

Discussions on energy cooperation and water management are to be discussed during the visit, both which are high on the agenda.

The premier was received by Tajikistan's First Deputy Prime Minister Davlatali Said, Minister for Energy and Water Resources Osmanzada Osman Ali, Deputy Foreign Minister Nizomiddin Zohidi and Tajikistan Ambassador to Pakistan, Sherali Jananov at Dushanbe International airport.

The inaugural session of the International Conference on the Implementation of the International Decade for Action "Water for Life," 2005-15, was attended by the premier together with other heads of state.

The Conference is being hosted by Tajikistan in pursuance of the UN General Assembly resolution no. A/RES/69/2015, which was co-sponsored by Pakistan, and is expected to attract high-level participation from a large number of countries, as well as the UN Secretary-General and representatives of other relevant international and regional bodies.

The Conference will review the status of the implementation of the objectives of the Decade, which include implementation of water-related internationally agreed goals.

It will also adopt a 'Declaration', suggesting other measures to further enhance cooperation at all levels.

Read: Energy to figure high during PM's trip to Tajikistan

An early execution of the Casa-1,000 power supply project and oil import are also on the agenda for discussion.

Officials revealed that the key focus of the trip would be the deliberation on water issues, where United Nations Secretary General Ban Ki-Moon will also be present.

Prime Minister Nawaz Sharif is accompanied by the Minister for Water and Power Khawaja Asif and Special Assistant to the Prime Minister on Foreign Affairs Sartaj Aziz during the visit.
COMMENTS (5)
Comments are moderated and generally will be posted if they are on-topic and not abusive.
For more information, please see our Comments FAQ