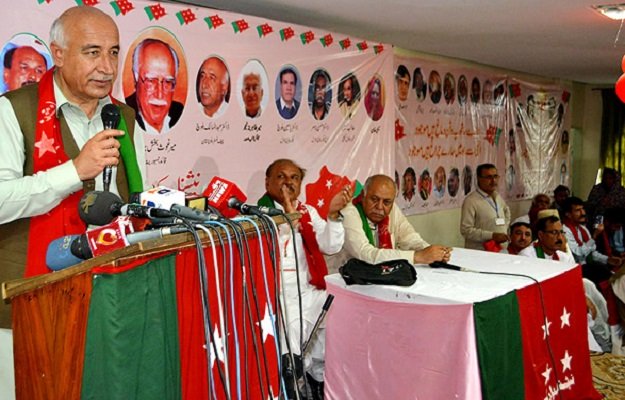 ---
LAHORE:



A single scream from Lahore can shake up the entire country. We could keep screaming for years from Quetta and no one might listen, Balochistan Chief Minister Abdul Malik Baloch said at the National Party's (NP) first Punjab Wahdat Conference on Sunday.




Baloch called on the people of the Punjab to end discrimination and disparity vis-à-vis the people of Balochistan.

Punjabis in Balochistan used to be targeted two years ago, Senator Hasil Bizenjo said. "That has stopped… Now we must focus all our energies to realise Quaid-i-Azam's dream of making Pakistan a secular democratic country."

"We cannot rule out foreign involvement, especially an Indian hand, in Balochistan… there can be no solution to Balochistan's issues unless the province is strengthened internally," the chief minister said.

Political turmoil in the province can only be ended by holding talks with disgruntled Baloch leaders, he said. "Exploitation of the situation by foreign elements would continue unless we put our own house in order," he said.

Baloch also stressed the need to establish friendly ties with neighbouring countries.

He said that the missing persons situation had improved, but forced disappearances were still being reported. He said some of the missing persons had been recovered and efforts were underway to recover others. "We want a political resolution of the conflict, and the missing persons problem."

The chief minister said there were reservations in Balochistan regarding the China-Pakistan Economic Corridor (CPEC).

"We tried to avoid a controversy over the CPEC, but that doesn't mean that there aren't reservations," he said.

He said that he hoped that the development project would incorporate the wishes and aspirations of the Baloch people and not marginalise them further. "We, the Baloch, welcome foreign investors but we also demand due share of resources for our people."

He said the National Party had established a committee to work on recommendations to be made in this regard. He said some of these had been accepted. He thanked the federal government for allocating Rs2 billion to build road infrastructure and Rs3 billion to build three dams.

"Ours is a coalition government…It's very difficult to run such a government," Baloch said.

No one has managed to bring about a revolution in Balochistan, said the chief minister. "But we have brought people to power."

He said there were frequent kidnappings for ransom; the Hazara community faced security problems; and target killings, suicide attacks and terrorist activity were rampant when he took over, he said. "Over the past two years things have changed…market places in Quetta now remain open for business well into the night."

Baloch said the Turbat and Mastung killings were meant to incite more violence.

Baloch said, "If you ask what we have done in Balochistan so far, I'll say that we have made a non-functional government, functional."

He said the levies and the police had been restructured. The government had tried to depoliticise the police, ensure recruitment on merit, and provide adequate training and equipment, he said.

He spoke of similar interventions in the education and health sectors. Around 300,000 children were enrolled in schools and 3.5 million children were vaccinated against measles, he said. Baloch said between 3,000 and 4,000 postings had been handed to the Public Service Commission.

The year 2015, he said, has been declared the year of agriculture. He said the government would focus on livestock, agriculture and research and poverty alleviation.

Senator Bizenjo said the NP had faced immense criticism for being a Baloch party. He said the party focused on treating everyone equally.

NP Secretary General Dr Yasin Baloch said the party had managed to organise in the Punjab. "

NP Punjab Organiser Ayub Malik said the party would field candidates in 22 districts in the upcoming local government elections.

Published in The Express Tribune, June 8th, 2015.