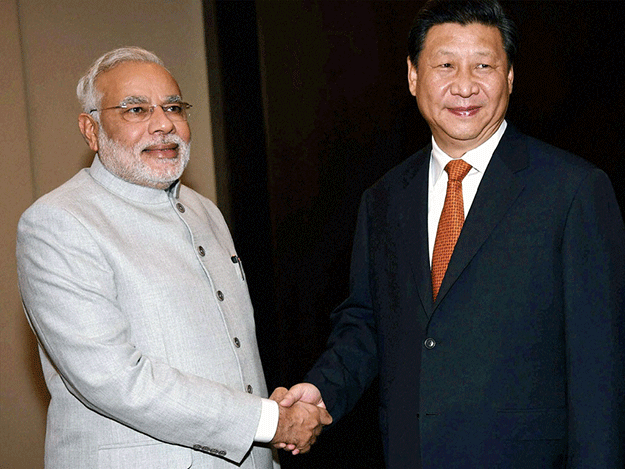 ---
NEW DELHI:



Indian External Affairs Minister Sushma Swaraj has said that Prime Minister Narendra Modi has told Beijing that the multibillion-dollar China-Pakistan Economic Corridor (CPEC) is 'unacceptable' to India. This vocal opposition lends credence to Islamabad's claims that New Delhi is fomenting unrest in Balochistan in a bid to sabotage the project described as 'game changer' for the region.




"The prime minster [Narendra Modi] during his visit [to China] took up the issue firmly and spoke very strongly that the CPEC going through Pakistani Kashmir is unacceptable," Swaraj said while speaking at a news conference in the Indian capital, according to NDTV.




Chinese President Xi Jinping during his visit to Pakistan in April had announced the ambitious $46 billion, 3,000-kilometre corridor to connect Gwadar port in Balochistan with Kashgar in China with a network of roads, railways and pipelines.

Swaraj said the Indian government had summoned the Chinese envoy over the multibillion project and the Indian envoy in Beijing had also raised the issue with Chinese authorities. According to analysts, India's fears stem from the fact that the CPEC will pass through the Pakistan-administered Kashmir and that it could be used for military purposes in the future.

The Modi administration has been increasingly under criticism for the absence of a clear policy vis-à-vis Pakistan. When asked about this, Swaraj dispelled the impression of any change in policy on Pakistan, saying that New Delhi has set preconditions for resumption of dialogue with Islamabad.

Listing the preconditions, Swaraj said a) New Delhi is willing to resolve all outstanding issues through peaceful negotiations, b) the talks should be bilateral without the involvement of third party, c) and talks should be held in an atmosphere free from terrorism.




Swaraj ruled out resumption of cricketing ties with Pakistan in foreseeable future. "Who told you that we have decided to resume cricketing ties with Pakistan? Nobody has conferred with me and no decision has been taken in this regard," she told a questioner.

Meanwhile, the Indian prime minister in an interview to UNI news agency expressed his desire to break the ongoing diplomatic deadlock with Pakistan, but at the same time urged the neighbouring country to shun alleged support to violence.

"The deadlock must end," Modi said. "I expect just one thing from Pakistan. It should take the path of peace and non-violence. The path of violence will do neither any good to them nor to us."

He was asked why he had not visited Pakistan so far despite his strong advocacy for outreach to India's neighbours and whether this deadlock could end in the near future.

Modi said there was no hindrance in normalisation of relations with Pakistan provided it created an atmosphere of peace.

The prime minister's remarks came a day after Swaraj made it clear that no talks would be held unless the country took action against terror and stopped involving a third party in resolution of bilateral issues.

India had called off the foreign secretary-level talks in August last year after Pakistani High Commissioner Abdul Basit invited separatist Kashmiri leaders for consultations ahead of the dialogue in Islamabad. The decision for holding these talks had been taken by Modi and his Pakistani counterpart Nawaz Sharif when the latter had come to take part in Modi's oath-taking ceremony at the latter's invitation on May 26 last year.

Swaraj had said that talks were possible only if Pakistan took credible action against the culprits of the terror attacks in India and desisted from involving Kashmiri separatists.

The composite dialogue between the two countries has been suspended since the Mumbai terror attacks of 2008.


Published in The Express Tribune, June 2nd, 2015.
COMMENTS
Comments are moderated and generally will be posted if they are on-topic and not abusive.
For more information, please see our Comments FAQ