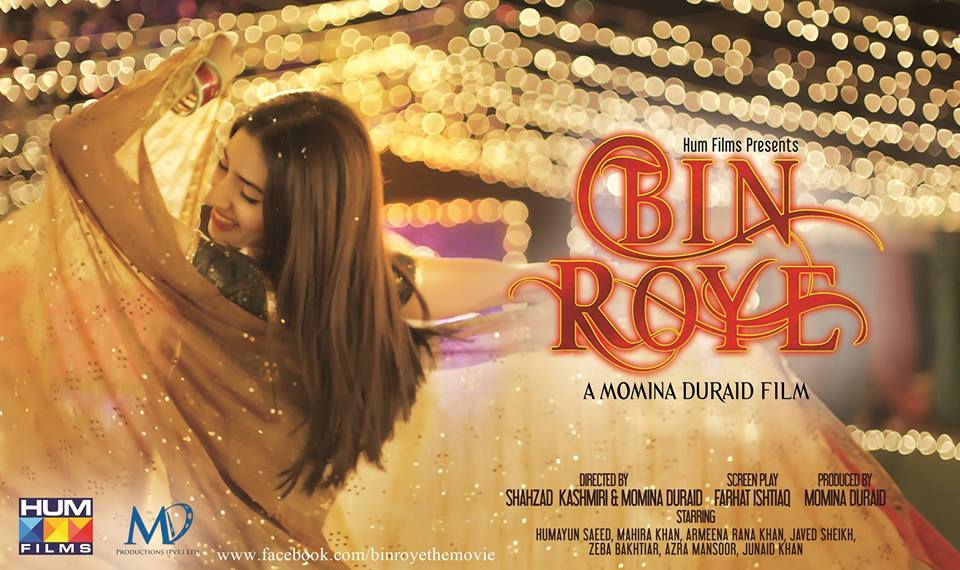 ---
KARACHI: It is usually this time of the year when Pakistani cinema seems the most alive with multiple movies, one after the other being released on Eid.

With Eid-ul-Fitr only a few months away and the month of Ramazan just around the corner, film producers and exhibitors have already started picking up the pace ensuring their movie gathers the right amount of steam heading into its release.

A similar case can be made for the forthcoming romantic-drama Bin Roye. The movie which boasts of a stellar cast in Humayun Saeed, Mahira Khan, Javed Sheikh, Junaid Khan and Armeena Rana Khan is already being touted as one of the biggest films to release this year.

Read: Mahira Khan and Humayun Saeed's Bin Roye likely to steal your hearts

During a press conference on Monday, the cast and crew got together to share their experience and expectations from the movie.

Mahira Khan termed Bin Roye as her 'first film'. Despite having made her feature film debut with Bol, the Humsafar actor recalled how she had been a part of the project from its inception.

"Ever since I was narrated the story, I've been attached to it. Even while they were casting actors and scouting for locations, I was still very much a part of it," said Mahira.


PHOTO: HASSAN CHOUDARY/EXPRESS

The actor who is busy filming for her Bollywood debut Raees opposite Shah Rukh Khan these days was full of praise for the cast and crew of the movie, telling how they had a brilliant rapport through the filming process.

When asked who was a better co-star: Humayun Saeed or Shah Rukh Khan, Mahira jokingly responded, "Since Humayun is called the Shah Rukh Khan of Pakistan, that makes Shah Rukh Khan the Humayun Saeed of India."


Mahira Khan. PHOTO: HASSAN CHOUDARY/EXPRESS

Humayun Saeed, who is nicknamed as the 'King of Romance' in the Pakistani entertainment industry will be play the male protagonist in the movie.

He said the strongest point of movie was its story. "Momina [Duraid] as a producer has taken care of every facet of the film be it the wardrobe or the sets…," he said.

Read: I can't wait to see both my films rule the box office: Humayun Saeed

The actor believes the film would showcase the Pakistani film and television industry's real strength, which has always been, 'drama'.

Humayun, who was quite animated and evocative throughout the press conference, even joked that "since it is a family-oriented film, Hamza Ali Abbasi definitely won't have to post a status about it on Facebook."

Bin Roye, which has been produced by MD Films and Hum Films, has been shot at multiple locations, including Karachi, Dubai and the scenic locations of Santa Barbara and San Francisco over a period of two years.

Co-directed by Momina Duraid alongside Shahzad Kahsmiri, the film will also be broadcast as a television serial.

However, the making of the film was not at all without obstacles, with director Haissam Hussain exiting the project at an early stage.

Badar Ikram, the senior vice president of Hum Films said contrary to popular belief there were no differences as, "Haissam had to leave the project due to scheduling conflicts."

Co-director and producer Momina explained Haissam directed a significant portion of the serial but only filmed a few scenes for the movie. Besides, two songs in the movie have also been choreographed by different directors with Asim Raza and Sarmad Sultan taking over the director's chair.

To a question about why the producers had undertaken a risk by releasing a romantic-drama like Bin Roye on an occasion like Eid against comedy films such Wrong No., Halla Gulla and Karachi Se Lahore, Momina acknowledged this was good omen for the country's film industry, and that all sorts of movies should be released be it a comedy of drama.

"The movie is ideally-suited for Eid as it is a love story," she said. "Not only would the movie make you cry but will also make you smile as well."

The movie's music launch will take place at the Bridal Couture Week on June 7 with the producers also planning for a simultaneous international release in seven countries.

Bin Roye is the second film to be produced by Hum Films after the 2014 blockbuster, Na Maloom Afraad.

Mahira later tweeted about the film:

Lived with this film for what seems like a lifetime.Blood,sweat,tears,heart & soul..given it my all.#BinRoye this Eid pic.twitter.com/Fc1MLJpnru

— Mahira Khan (@TheMahiraKhan) May 25, 2015


And here is the trailer of Bin Roye: