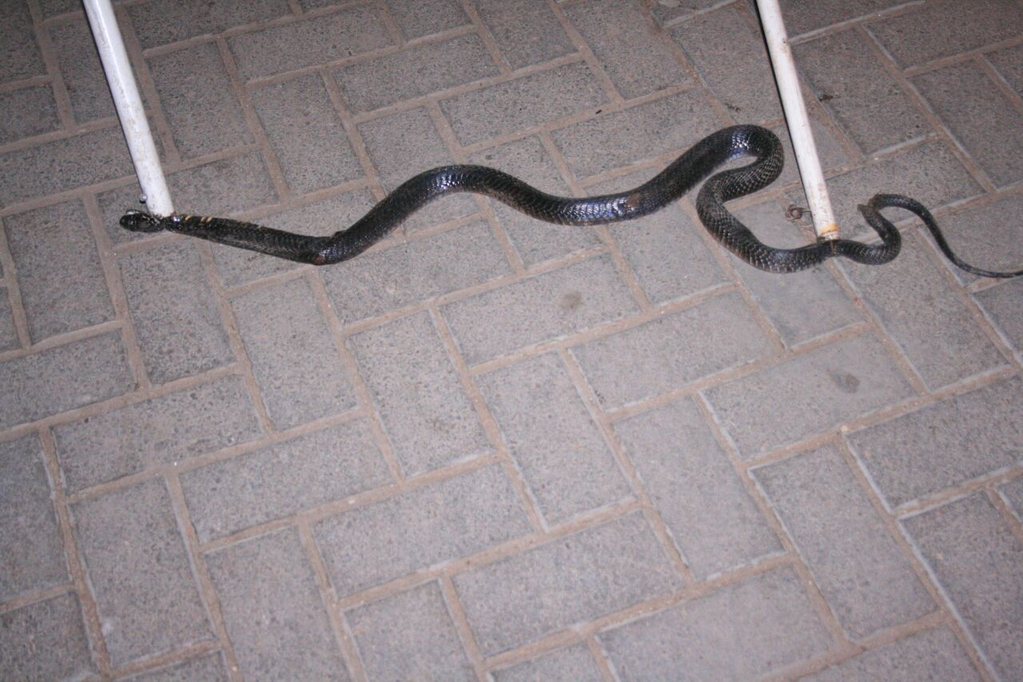 ---
KARACHI: Karachi police shot dead a cobra on Sunday in the Liaquatabad area of the city, Express News reported.

The 20-foot-long snake had caused terror in the area as residents were unable to sleep peacefully for the last few days.

The security forces reportedly shot the cobra thrice using a pistol.

Snake bites have caused multiple deaths in Tharparkar over the years but some people have been lucky enough to stay alive due to timely medication.

Read: Anti-snake venom: Shortage of vaccines poses threats to Tharis

One or two doses of the anti-snake venom (ASV) vaccines prevent patients from suffering the neurotoxic and cardiotoxic effects of the snake poison.




PHOTO: LIAQUATABAD POLICE STATION

Over a period of three months, more than 1,300 cases of snake bites were reported in Thar's government hospitals and centres of People Primary Healthcare Initiative (PPHI), according to the data obtained from the district health office in 2013.

A study revealed that anti snake venom (ASV) made by Pakistan National Institute for Health (PNIH) is 2.5 times cheaper and more effective than the ASV imported from India.

Read: Study: Local anti-snake venom cheaper, more effective


COMMENTS (35)
Comments are moderated and generally will be posted if they are on-topic and not abusive.
For more information, please see our Comments FAQ