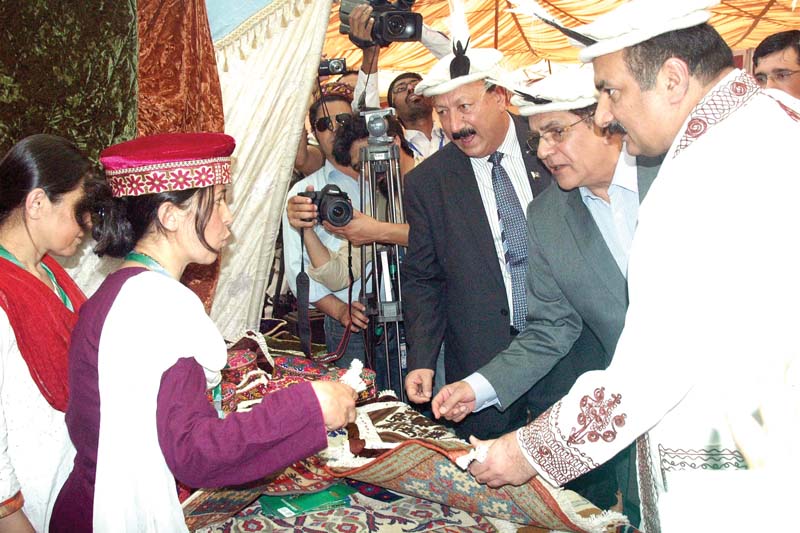 ---
LAHORE:



Tourism in Hunza has declined largely due to the deteriorating security situation in Gilgit-Baltistan. Holding exhibitions of local craft could help attract tourists from within the country, said Nisar Hussain, who had set up a stall at a two-day exhibition at the Lahore Chamber of Commerce and Industry.  




The exhibition, featuring 60 stalls of jewellery, handicrafts, dry fruits and gem stones, came to a close on Friday. The idea was to promote tourism potential, heritage and the culture of Gilgit-Baltistan.

Hussain's stall carried a variety of knick knacks including dried fruits, clothes and shoes. "It's more about making people aware of the native beauty of Gilgit-Baltistan than selling these items," he explained. He held up shoes made from the hide of markhor – Pakistan's national animal. "This kind of shoe goes back in our history."




Sameen Firdous from Sakwar village in Gilgit-Baltistan displayed jewellery made with various gem stones native to the area.

She said that she had used finished gems mined by locals in Gilgit-Baltistan to craft the jewellery she sold.

The exhibition also offered dealers of uncut gem stones the opportunity to form market-linkages. Tariq Jamal, a gemnologist from Hunza, said Hunza, Skardu, Shigar and Ghizir had a lot of gems that could be mined but they lacked the equipment and man power to ensure proper extraction.

"Most of the miners there are unskilled and a large number of gem stones are lost in the extraction process. What we are showcasing here is reflective of only 15 per cent of what we can produce given the proper equipment," he said.

Gem stones, cut and uncut, were major attractions at the exhibition.

Saima Qureshi, a visitor, said that she was visiting the exhibition especially to look at the stones. She said that she was not aware of various types and forms of gems but she had heard that she could get rubies and emeralds cheap.

Gilgit-Baltistan is known for its high quality topaz, tourmaline, aquamarine and quartz.

According to the businessmen at the event, apart from such exhibitions, shopkeepers sold their stones at Namak Mandi in Peshawar for a bargain.

The festival was inaugurated by Minister Rana Mashood Ahmed Khan. He said the law and order situation in Gilgit-Baltistan was improving steadily. This would also bring in international tourists.

He said that the government of the Punjab was focusing on upgrading and renovating heritage sites throughout the province and congratulated the LCCI on holding the festival to promote tourism in Gilgit-Baltistan.

LCCI president Ijaz Mumtaz said that lack of infrastructure was a major problem in accessing certain areas in Gilgit-Baltistan and the government would have to divert its attention to addressing the issue. He said tourism could contribute significantly to the economy if the country was developed properly.

Published in The Express Tribune, May 9th, 2015. 
COMMENTS
Comments are moderated and generally will be posted if they are on-topic and not abusive.
For more information, please see our Comments FAQ