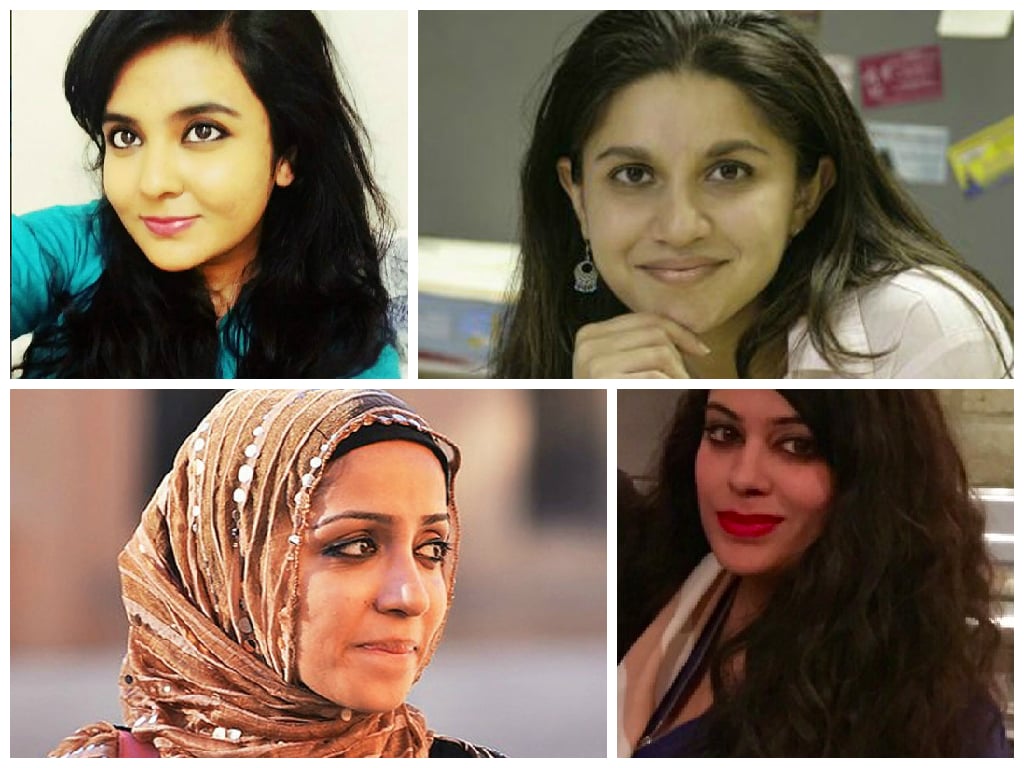 ---
Though expansive in its content, a recently combined list of Twitter accounts belonging to Muslim women from around the world lacked representation from Pakistan.

Here at The Express Tribune, we compiled our own list of 8 Pakistani women that we believe you must follow. Our list consists of Pakistani women from all walks of life: journalists, activists, academics, actors and authors. Following these women is a must for those looking to gain an added perspective to the rather male-dominated public opinion.

1. @MehreenKasana


PHOTO: TWITTER

Her bio is three words long: one woman army. And that is precisely what Mehreen Kasana is. Not only is she one of Pakistan's top bloggers, but it is her unique take on things that makes her a top choice for our list. She is an activist and a progressive, through and through. She speaks loudly and bravely against racism and Islamophobia and truly thinks outside the box. Mehreen is one of those who build bridges between extremes.

https://twitter.com/mehreenkasana/status/592581594944294912

2. @SanaSaleem


PHOTO: TWITTER

Though Sana is widely known as a rights activist, her humour and her anecdotes with her Daadi are worth a read. Director of "Bolo Bhi", Sana is a fearless voice against state censorship, and an expert in digital rights and security. She says what she has to by cloaking it in biting wit.

https://twitter.com/sanasaleem/status/594224678295613441

3. @SheikhImaan


PHOTO: TWITTER

With the wittiest sense of humour, hands down, Imaan is an entertainer and wins over tweeps with her charm. Agree with her or not, you cannot ignore her. Reading any tweet by the Buzzfeed author is either time well spent or time well wasted.


It's mum's bday & Labour Day, but she never takes a day off from being the best mum in the world 💜 So hardworking, still cooked me lunch lol

— Imaan Sheikh (@sheikhimaan) May 1, 2015
4. @SamarMinallahKh
PHOTO: TWITTER

She makes us proud simply with all the good work she does. Anthropologist and documentary film-maker, Samar's work for women's rights, especially child marriage, has changed many lives for the better. Her roots are firmly planted in indigenous sensibilities of Khyber-Pakhtunkhwa from where she hails, and her work is thus respected both locally and globally.


Humbled and honoured to receive this years DVF Award #DVFAwards #UN pic.twitter.com/STgPEBVWGQ

— Samar MinAllah Khan (@SamarMinallahKh) April 24, 2015
5. @Mehreen Zahra-Malik
PHOTO: TWITTER

The Reuters correspondent for Pakistan is a great source for the latest rumblings in Islamabad. She might get a few details wrong here and there, but for the most part Malik tackles stories that local media can't or won't.


Sir, logic: it's rigging if election staff didn't do their job properly. Point is, the result isn't fair. #SaadRafique #Pakistan

— Mehreen Zahra-Malik (@mehreenzahra) May 4, 2015
6. @Zofeen28
PHOTO: FACEBOOK

As one of Pakistan's most respected feature writers and journalists, she brings to the fore issues that need to be highlighted. If you want to read human interest stories, this is the account to follow.


#songoflahore by #Sachalstudios receives standing ovation by #TribecaFilmFestival @BAIJUBAWRA7 Kudos @sharmeenochinoy

— Zofeen Ebrahim (@zofeen28) April 21, 2015
7. @NJLahori
PHOTO: TWITTER

Nadia Jamil, darling of the people, is as popular on Twitter as she is otherwise. The activist-actor, and self-claimed foodie, brings to you the much-needed zest of Lahore.


Englands obsession with Royal Babies fascinating.Tried,but couldnt care less what they wear,when they poo,what they are named,how they wave😱

— Nadia Jamil (@NJLahori) May 4, 2015
8. @RafiaZakaria
PHOTO: TWITTER

Attorney, political philosopher and the author of The Upstairs Wife: An Intimate History of Pakistan, Ms Zakaria is popular not without reason. She gives a less myopic and more global picture of issues that face present day Pakistan and the world.


The collective blame on Muslims and the highlighting of freedom of expression as a solely Western value is a victory for extremists

— Rafia Zakaria (@rafiazakaria) May 4, 2015
COMMENTS (15)
Comments are moderated and generally will be posted if they are on-topic and not abusive.
For more information, please see our Comments FAQ