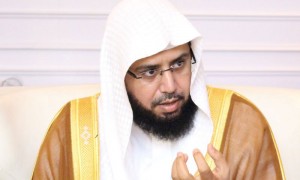 ---
LAHORE: Imam-e-Ka'aba Sheikh Khalid bin Ali al Ghamdi has reiterated that the Yemen conflict has no sectarian undertones and that the Saudi-led military coalition wants to restore the legitimate government of President Abedrabbo Mansour Hadi toppled by Houthi rebels.

Addressing a Difa-e-Haramain Sharifain convention organised by Jamiat Ahle Hadith in Lahore, al Ghamdi, who is on a weeklong trip to Pakistan, said Saudi Arabia could not remain oblivious to the political chaos in its neighbourhood.

"The Houthis rebelled against the legitimate government of Yemen and targeted children and women and made them homeless," he added. "The Saudi-led military coalition is trying to restore the government."




While thanking Pakistan's government and political parties for their resolve to protect Haramain Sharifain (the two Holy Mosques), the Imam-e-Ka'aba said it was the responsibility of every Muslim to defend Haramain Sharifain. "Today's convention is a reflection of the love of Pakistanis for Saudi Arabia," he added.

Al Ghamdi said Saudi Arabia enjoyed a special relation with Pakistan which is a powerful country. "The Saudis consider Pakistan as their second home," he said. The Imam-e-Ka'aba also urged religious scholars to impart true Islamic teachings.

Jamiat Ahle Hadith Pakistan Ameer Dr Hafiz Abdul Karim thanked the Imam-e-Ka'aba for visiting Pakistan and assured him of all possible cooperation from the government and the people of Pakistan in defending Haramain Sharifain.

PML-N's Abid Sher Ali, Khawaja Saad Rafique, Jamiat Ahle Hadith chief Sajid Mir and Pakistan Ulema Council's Tahir Ashrafi also attended the convention.

Published in The Express Tribune, April 27th, 2015. 
COMMENTS (3)
Comments are moderated and generally will be posted if they are on-topic and not abusive.
For more information, please see our Comments FAQ