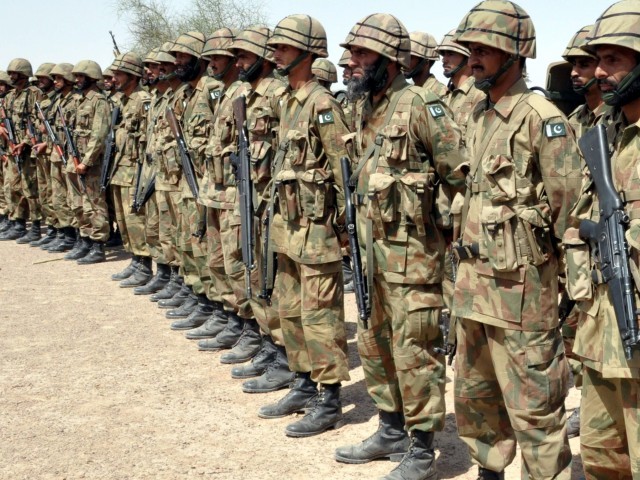 ---
ISLAMABAD:



A special division of the Pakistan Army will ensure the security of the Chinese nationals working on the multibillion-dollar China-Pakistan Economic Corridor project which will create a network of roads, railways and pipelines linking China's restive west to the Arabian Sea through Pakistan.




President Mamnoon Hussain has informed his Chinese counterpart Xi Jinping that the army has created a special 12,000-strong unit for the security of the Chinese engineers working on the 3,000-kilometre-long route, a cabinet member told The Express Tribune on Tuesday.

"I'm pleased to inform you that the government has accorded approval to providing security to the Chinese working in Pakistan, and a special security division has been created for this purpose," Mamnoon told Xi.

An estimated 8,000 security officials have already been deployed to protect some 8,112 Chinese workers in Pakistan, an official added.

According to ISPR's Director General Maj-Gen Asim Saleem Bajwa, the special security division would comprise nine army battalions and six wings of the civil armed forces, and the entire unit will be commanded by a major-general. The cabinet member said all security arrangements were being made by the army. "The interior ministry will assist the army in the entire process," he added.




Nisar's conspicuous absence

While Prime Minister Nawaz Sharif and President Xi signed 'historic' deals that are expected to usher in a new era of development in Pakistan, Interior Minister Chaudhry Nisar has been conspicuously missing from key security meetings, said the cabinet member.

Nisar was asked to brief the Chinese leader on security issues, including the formation of a special security division for Chinese workers, he added.

"While the interior minister did show up in the dying moments of the joint session of parliament on Tuesday, he did not even shake hands with Premier Nawaz."

A source said the premier had asked Nisar to raise a 12,000-strong force with the help of the army to provide foolproof security to the Chinese workers.

"But both the interior minister and the interior secretary were absent from the relevant meetings. I'm shocked to find our senior colleague [Nisar] missing in today's mega event despite repeated requests by PM sahib."

Security issues remained the focus of talks between President Xi and Premier Nawaz, leading many to wonder about Nisar's absence. "Where is our security man in these security talks?" a cabinet member, who was deputed by the premier to host the Chinese diplomats at the Prime Minister Secretariat, whispered to his colleague.

The interior minister chose to spend the entire day at the Punjab House rather than meeting Chinese dignitaries and other senior cabinet members at the Prime Minister House, an official told The Express Tribune. "I suppose Chaudhry [Nisar] sahib thought he was sidelined on this issue," he added.


Published in The Express Tribune, April 22nd, 2015.