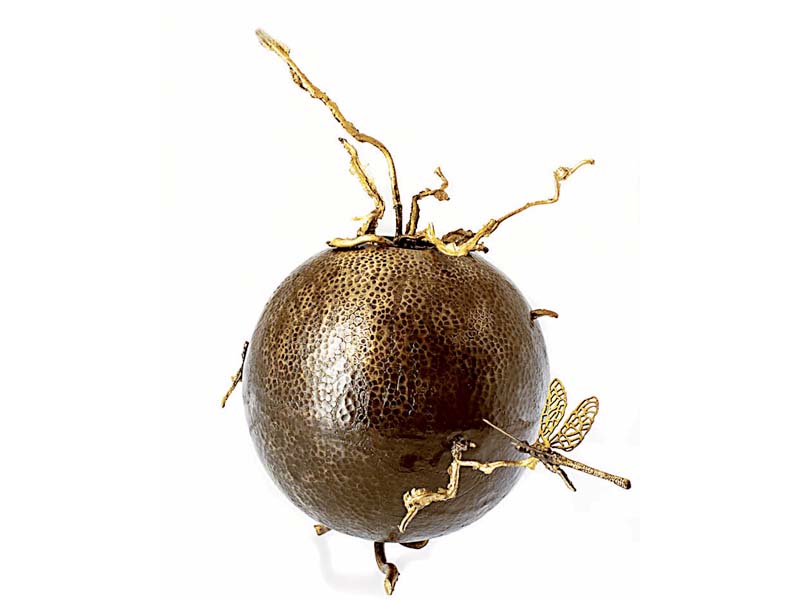 ---
KARACHI:



Artist Manizhe Ali's work is an idea of recreating memory and she executes it with a play of chance and experiment in the printing process.




This work, titled 'And the doves circled overhead', depicted layers upon layers of text and photographs. "My work is all about how memory is recreated through rituals," she said. Employing a combination of digital art, watercolours, graphite and silver leaves, Ali has combined the old with the new.

Ali, along with Afshar Malik, Meher Afroz, Mohsin Shafi, Nurayah Sheikh, Rabeya Jalil and Sajjad Ahmed, had displayed her works at an exhibition titled 'Alternative Methods' at the Full Circle Gallery. The opening was on Wednesday.

All the artists seemed to have taken an out-of-the-box approach. As for themes, the works explore personal journeys as well as reflections on society and religion. By revamping the conventional methods of art, the artists seemed to have transgressed the limitations of traditional techniques of art. For example, Ali's expression of the mourning of Muharram looks like red splashes of blood on which real life images are placed.

Sculptures

For Sheikh, sculptures were the alternative method. Spherical sculptures with a dragonfly on the exterior of each represent the ovum of the female, with the dragonfly signifying the delicacy associated with female beauty. "It depicts how versatile and whole a woman is," she said. "She always gives a part of herself but that doesn't make her any less."

The spheres were made of brass, with its surface treated with acid and inked to create areas of darkness and shine. "The sphere can be interpreted in many ways," she said. "For instance, [it can be seen] as the earth that is always in motion or as a being that is complete in itself." For Sheikh, the stems on the surface of the spheres represent growth.

A personal journey

Collections from notebooks and photographs to memorabilia of his parents were the main focus of Shafi's unique display.

He assembled them all together and captured photographs. These photographers give the viewer a sneak peek into his mind and memories. In these more than 200 pictures, one can see a strip of pills, a book of his mother titled 'Bahishti Zewar,' a projector belonging to his father, a film from an old camera and a pair of scissors among other things.

In another work, he laid out a film on the floor of the gallery to give it an effect of 'walking through my memories' when visitors watch it while walking through it. "This is nostalgia but one that is very focused," explained Shafi. "The alternative method is the concept of leaving imprints. It is an effort to place it in a different narrative."

The exhibition will run till April 29.

Published in The Express Tribune, April 10th, 2015.
COMMENTS
Comments are moderated and generally will be posted if they are on-topic and not abusive.
For more information, please see our Comments FAQ