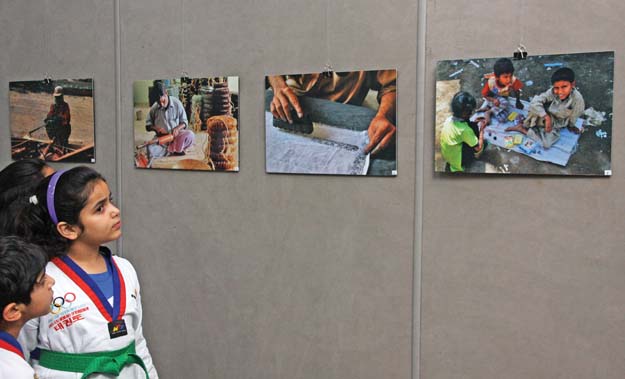 ---
KARACHI: A picture is said to be worth a thousand words. For award-winning photographer Arif Soomro, however, a portrait is worth a life.

Capturing the lives of Karachi's labourers, Soomro's first solo show, 'Lost in Labour', opened at the Alliance Francaise on Saturday. The exhibition, which was inaugurated by French consul-general Francois Dall'Orso, will continue till March 21.

"Each image exhibited here tells a story about the various experiences of labourers in different parts of the city," Soomro told The Express Tribune. "Every portrait has a tale of its own. The photographer's role is to make that story visible and to ensure that the subject's personality speaks for itself."




Soomro, an Express Tribune staffer who won an award from the International Labour Organisation for his photography, felt a deep bond with his subjects. "I have experienced how a labourer's family lives," he explained. "It took 15 years of dedication and hard work to be able to collect what I felt as a child in the 50 pieces on display here."

Pointing to a photograph, he said that the hands and feet of workers always fascinated him as a subject. "The feet covered with mud in this image speak of the daily struggle of labourers." He added that labour was not merely work — it encompassed every aspect of life.

It is not only working people he focused on. To show another side of the story, he also took photographs of children as they finished working for the day. "They worked hard to make ends meet all day but in the evening, they came out to play on the streets, enjoying their lives," he gestured to another picture, taken in Machhar Colony. "My passion is to capture the moments of relief in the lives of labourers after long hours spent working."

Speaking at the opening, photographer Behrouz Hashmi summed up what made Soomro's pictures speak to the viewer. "The hundreds of selfies you take daily are not photographs. A photograph is when you capture a life under a theme at the perfect time with the perfect expressions."

Published in The Express Tribune, March 16th, 2015.