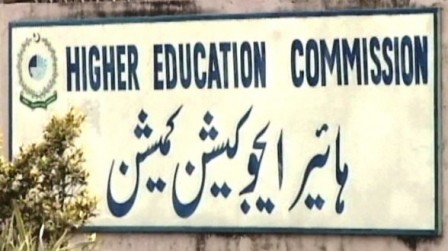 ---
ISLAMABAD: Plagiarism at the higher education level has been an open secret, with many suspected plagiarists holding senior faculty positions in different universities across the country.

Meanwhile, in a comical turn, the Higher Education Commission (HEC) on Friday gave its best research paper award to a scholar who had been blacklisted by the regulatory body in 2008 for publishing a plagiarised paper.

Later in the evening, when The Express Tribune drew the attention of the HEC towards the gaffe, HEC officials including the chairman claimed they withdrew the award conferred on Dr Shamraz Firdous of the National Institute of Lasers and Optronics, Islamabad.

The HEC website lists the names of 21 scholars from different universities who have been blacklisted after being caught plagiarising material.

According to the HEC website, University of Karachi Islamic Studies Department Dean Jalaluddin Noori copied his entire PhD thesis from a book by Dr Qahtan Abdur Rahman Aldauri of the University of Baghdad.

Similarly, the head of the computer sciences department at International Islamic University Islamabad (IIUI) had copied his research paper from an international journal.

The HEC, which has blacklisted Dr Muhammad Sher on its website, informed the university to take action against him two years ago back, but he continues to work there.

Meanwhile, Bahauddin Zakaria University Department of Islamic Studies teacher Dr Abdul Qudus Suhaib Multan was found to have plagiarised five research papers from different articles.

Similarly, three teachers from the Department of Educational Management at the University of Sindh Jamshoro campus were caught plagiarising material. The HEC website says, "The authors copied much of the material from various books and sources without properly quoting [them]".

A teacher at the Department of Islamic Theology at Islamia College University, Peshawar and another teacher in the Urdu Department were among the other 'scholars' to make it to the HEC 'hall of shame', as an Islamabad based educator referred to the list.

According to the HEC, if a university fails to take action against a plagiarist, the HEC withdraws benefits such as travel and research grants, HEC approved supervisors, and teaching award eligibility for the university's staff for two years. "This is the least HEC can do in such instances," said an HEC official when asked what actions the body could take. The official said most of the time, universities fail to take action against such faculty members because of their sway in the administrative set up or their associations with teacher unions.

HEC Chairman Dr Mukhtar Ahmad said it was unfortunate that some university professors have been caught on plagiarism. "We are looking into the issue and will take it up in the next governing body meeting," he said.

On the award for a blacklisted scholar, he said it was due to a lack of coordination. "It was immediately withdrawn," he said.

Published in The Express Tribune, March 14th, 2015.
COMMENTS
Comments are moderated and generally will be posted if they are on-topic and not abusive.
For more information, please see our Comments FAQ