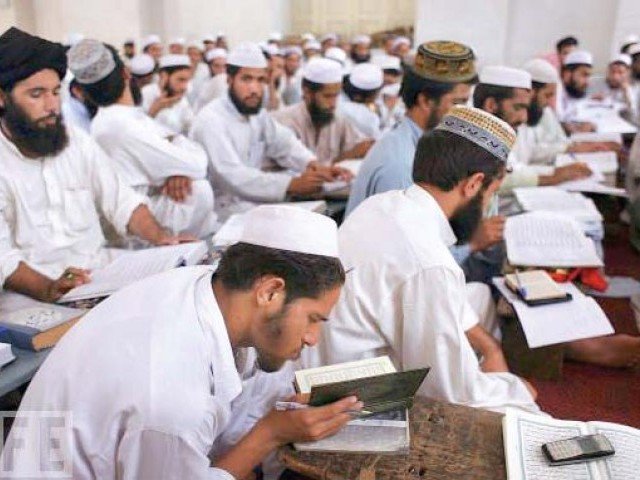 ---
ISLAMABAD:



At least 234 madrassas in Balochistan are being funded by 'brotherly' Muslim countries, home department officials tasked with investigating religious seminaries in the province said on Thursday.




"We have collected enough evidence against 234 madrassas accused of receiving financial assistance from foreign countries," a senior official told The Express Tribune on condition of anonymity.

"The list [of these seminaries] has been shared with relevant agencies and departments [the Federal Investigation Agency and State Bank of Pakistan] so that their accounts can be scrutinised and the sources of their funding traced," he said.

"But the list will go on," the official added.

The revelation comes barely days after authorities in Punjab admitted that around a thousand madrassas in the province were receiving funds from overseas.

When contacted, Balochistan Home Secretary Akbar Khan Durrani confirmed that various cases have been forwarded to agencies concerned for further investigation, but did not specify the number of madrassas against whom evidence of foreign funding had been collected.

However, he revealed that more than 3,000 of the province's 5,441 madrassas are not registered. "Some 5,330 of the 129,997 students that study in seminaries in Balochistan are foreigners, mostly of Afghan descent," Durrani said.

The home secretary added that the surveillance of madrassas suspected of being funded by other countries was still an ongoing process.

A member of the team conducting the surveillance of madrassas in Balochistan revealed the names of seminaries in Quetta and Nushki which were receiving financial assistance from Saudi Arabia, Bahrain and Iran.

These, he said, include Mataul Uloom, Arbia Maftaul Uloom, Anwar-e-Sahaba, Gol Masjid, Dunya Arbia Jamia Uloom, Jamia Akbar Darul Uloom, Faiz Darul Uloom, Darul Uloom Haqqania, Jamia Arabia Noorul, Madrassa Fareedia, Arabia Islami Ainul Uloom, Jamia Saeedul Madaris, Taleemul Quran Ghaffaria, Tehzeebul Noorul Madaris, Darul Hufaz, Darul Uloom Ahrafia, Darul Uloom Hanafia, Madrassa Obaidia, Darul Uloom Imam Tirmizi, Darul Uloom Ghausia Rizvia Anwarul Uloom, Jamia Maftaul Uloom Nawqbandia, Madrassa Noorani, Jamia Salafia Dawatul Haq, Arabia Darul Uloom, Ashatul Toheed Sunnat, Toheed Ahl-e-Hadis, Hakimul Nabeen, Hazrat Zainab, Imam Sadiq, Imambargah Waliul Asar, Imambargah Irania, Jamia Dawarul Haq, Arabic Darul Islamia Uloom Toheed Sunnah, Jamatul Islamia, Masjid al Toheed, Ahle Toheed and Madrassa Ansaria Ahle Hadees. He added that these madrassas did not reveal how much money they received and who gave it to them.

In addition to the madrassas listed above, Jamia Ahle Hadith Balochistan is receiving Rs16,000 annually from Bahrain, the official said. He added that Iran is also funding Madrassa Fatima Zahra Syeda, Madrassa Imam Hussain and Madrassa Khatmul Nabeen in Balochistan, but the home department has yet to investigate the amount the country has provided.

Published in The Express Tribune, February 20th, 2015.