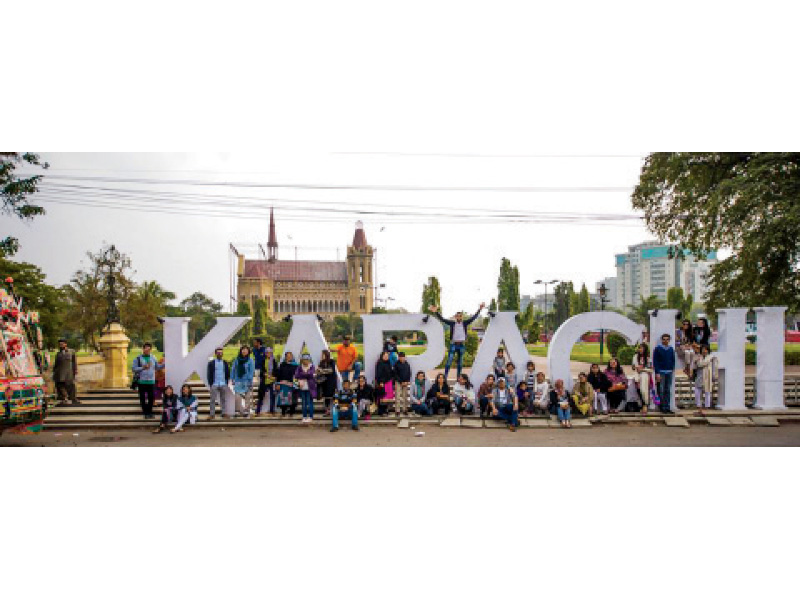 ---
KARACHI:



Have you lived in Karachi all your life? Do you like walking around and exploring the city's colonial heritage? Ever wondered where the Quaid was born? Well, now is your chance to see all this and more. Just hop on to the Super Savari Express- your guides and the brains behind it - Atif bin Arif and Bilal Hassan, will take you on to see the unseen sights of Karachi on board a typical Karachi bus.




How it started

It happened over Instagram.

Atif bin Arif was sitting at his travel agency, Gulliver's Travels, when he decided that he wanted to do something for the city he grew up in. His best chance to do this was involving something tourism related as that is his line of work. "I decided to pool in my resources and look at what I had to offer," he said. "I knew Bilal Hassan had been going to places all over the city - exploring and uploading photos on his Instagram account @MystaPaki. So I got in touch with him."

Hassan, a doctor, said that one day he received a phone call from Arif who he knew through mutual friends. The two got to talking and discovered their mutual love for Karachi. "He [Arif] said he would deal with the logistics and I'll have to sort out the routes," said Hassan while talking to The Express Tribune. "We started going to different historical and religious places to seek permission to bring people in. Initially, it was just a few places in Saddar but now we take the groups to many more."




According to Arif, every door they knocked on said no at first but after meeting with caretakers and officals at churches, temples, mosques and many others relented and granted them permission. "I used to ask them to give me one valid reason. Eventually we got permission to bring a group of people in and show them around," he said. "We try to incorporate cultural institutions, historical places and markets on our tours - places that are usually inaccessible so people can learn about the city and its diversity." He added that the response they had received was overwhelming. "Our idea is simple," he said. "We want to educate the Karachiwala and other locals about what the city and country have to offer - a mosaic of cultures that are co-existing together."




The route

To book tours you need to contact them via Facebook — letting them know about how many people will be joining them on the bus. You can also email them at: [email protected]

The tour is Rs2,000 per person and includes breakfast and tea. The group starts gathering on Sunday at Gulliver's Travels, behind Karachi Gymkhana around 7:30pm and the tour starts at 8am sharp. They also book special tours for groups on Saturday.

Hassan is the official guide of the tour. Arif usually walks a little ahead making sure everything is in order.

The tour includes some of Karachi hidden treasures like the Karachi Parsi Institute and Sobhraj Chetumal Terrace - a place built by a Hindu businessman for women to enjoy their evening strolls. They also take the Super Savari group to popular spots such as Empress Market, Wazir Mansion, Cantt Station, Flagstaff House and Frere Hall. The groups also get to visit some places they would not get the chance to normally - these include the Parsi fire temple, Tahiri mosque, Swami Narayan Temple and St Patricks Church.

"I love Karachi. I grew up here," said Hassan. "The image of Karachi that the world sees or talks about isn't the city I grew up in. I want to show people a small piece of the city that is a part of who I am."

Published in The Express Tribune, February 6th, 2015.