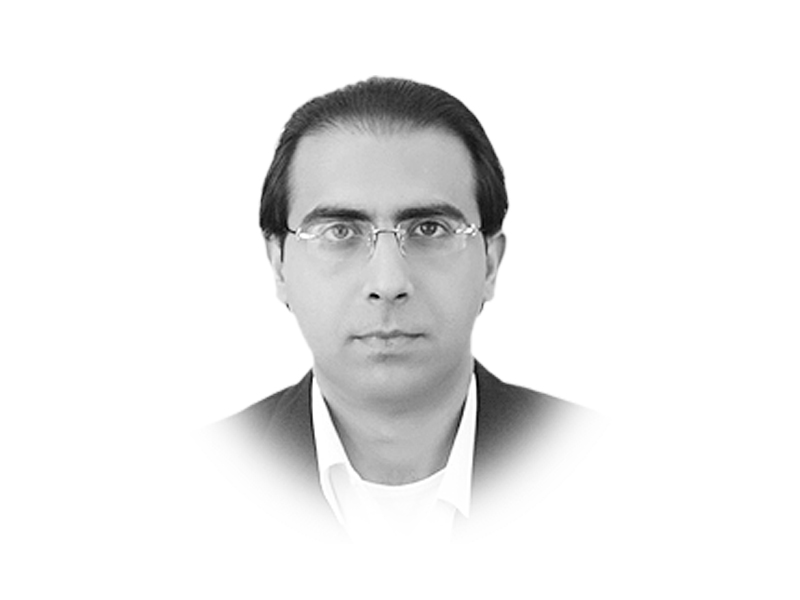 ---
"Always show good news first and if possible at bedtime also. (sic)", "[Shouldn't] repeat bad news too often."

These lines can be from George Orwell or the North Korean handbook for good life. These are the recommendations made by the National Assembly's Standing Committee on Information, Broadcasting and National Heritage, to regulate media coverage. Must we turn everything into a cruel joke? It seems we must. One hundred and thirty-two children died and all we have by means of a response is meaningless sloganeering, calls for blood, executions and military courts.

December 27, for the past few years is, unbearably tragic as is, and now there is the Peshawar massacre anniversary so close by to contend with. One misses Shaheed BB acutely and even if for the sake of thought experiment imagine, if things would have been different. She had her share of weaknesses, lack of courage — moral and physical — was not one of them. One of the most repulsive moments of the aftermath of BB's assassination was Imran Khan's callous and idiotic statement saying that "she only had herself to blame". Reflect on this, "only herself", not even the actual physical murderers? She was first of this batch of martyrs, the numbers will rise still. Her assassination was also the first time dangerous idiocy was used to score petty political points in this round. We did not know how to react to her death. Imran Khan and the likes deliberately sowed confusion by attempting to absolve the TTP. There are many things that the Commando should be held accountable for; this is at the top of the list.

Those who branded and marketed the TTP as our "estranged brothers", "who do not seek to enforce Sharia on gun point" and "should have offices opened" for way too long, now are those who ask for "these barbarians to executed in public" since "they are not Muslims", "Not Humans" and are enraged at the "liberal fascists" for making excuses to soften the "decisive action" against the TTP, etc. Their striking quality in life is the absence of irony. When the "liberal fascists" asked for the TTP to be held accountable for their atrocities, amounting to war crimes, everything from the ignorant parallels of the IRA to ad hominem "Western-paid, blood-lusting agents" was thrown in response.

The Peshawar school massacre is as grim a human tragedy that one can ever witness. However, are we to believe to that the 'State' have had a paradigm shift overnight? Are we to believe that fan boys and fan girls of the State have had a change of heart and are now trying very hard to make up for lost time, by compensating for in viciousness which they lacked in consistency? Very well, amen, we do. Yet, that is not enough. We are further not to question how the 'decisive action' will be taken. No, no questions about poor Malik Ishaq who perpetually finds himself implicated, falsely it turns out at each instance in criminal cases, yet justice does prevail and he racks up acquittals. Mentioning Mr Zakiur Rehman Lakhvi's recent grant of bail is not allowed, don't you know it is time for 'decisive action'?

No questions are allowed to the youthia apologists either. Were you wrong in construing them as "our estranged brothers" before, and just found out that they are CIA agents, the lot of them? Does that mean all of it (50,000 deaths in case you are wondering) was not "justifiable retaliation" to drone strikes? Was Mr Hakimullah Mehsud not a 'Shaheed'? Or was he, if so, is Mr Fazlullah a 'ghazi' or not? One can do this for very long and with no real effect. Since it is really the "liberal fascists" who are too be blamed and once we have executed the Taliban, you know the "hard core" ones (as opposed to the "soft core" terrorists?), we will Inshallah, publicly execute the "liberal fascists" for err… doing something evil.

The demand to hold the TTP and all hate-fueled militias accountable was and is unexceptionable, however, what happened at the All-Parties Conference (APC) was the ultimate insult to the memory of Shaheed BB and the young ones of the Army Public School, Peshawar. "Military courts" is the solution. BB was murdered by the same murderer as those kids in Peshawar. The murderer is hydra-headed, it is both State and non-State, it is both rural and urban, it cuts across party, ethnic, social and economic lines, and military courts don't stand a chance; and as a side point are illegal. It requires changing the security doctrine by the GHQ with no militant assets of any description; and a refusal to hobnob with sectarian outfits by mainstream political parties as a starting point.

The APC's decision or request for military courts is the flag of surrender by Pakistan's democratic civilian class. They are not up to this fight. It was for Pakistan's civilian democracy that BB died; yet all those indebted to her seem intent to bury her memory and struggle with the children in Peshawar. Mian Nawaz Sharif is simply not up for the job. Imran Khan changes his stance on the TTP with a breathtaking lack of embarrassment probably because as Ahmad Faraz's words go, "bus iss qadr thaa, kay darbar say bulawa thaa".

Spirits sink also to see those who have been at the receiving end of military courts, the PPP, the ANP and the MQM to cower, and to not say what they know to be the right position. If a constitutional amendment is needed to set up the military courts, why not bring these amendments to empower the civilian courts? Military courts are the statement that the State cannot protect judges, witnesses and lawyers, at least not civilian judges. Military courts are the not-so-soft coup. No political force has had the courage to question the frenzied decision to carry out executions and point out the Anti-Terrorism Act of 1997 under which the overwhelming number of the death sentences has been handed out is deeply flawed, often targeting the marginalised in case not "terrorism" as anybody understands it. Fair Trial, due process and other fundamental guarantees cannot be suspended because we are grieving. The fact that we are angry does not make it right; as a matter of fact that is (or at least was) the defining distinction between us and the murderers. Make no mistake, there will be military courts in Balochistan and Sindh, perhaps even in Okara. All of this has little to do with the murders of our children in Peshawar and everything to do with the cruel power politics, with the entire toothless civilian leadership admitting unconditional and complete defeat. This does not bode well for the memory of Shaheed BB, the children of Peshawar and for all of us. This will be a very cold winter.

Published in The Express Tribune, December 28th, 2014.

Like Opinion & Editorial on Facebook, follow @ETOpEd on Twitter to receive all updates on all our daily pieces.
COMMENTS (17)
Comments are moderated and generally will be posted if they are on-topic and not abusive.
For more information, please see our Comments FAQ