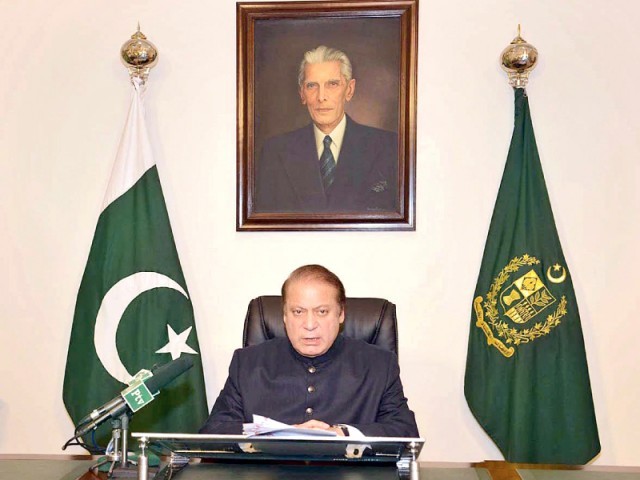 ---
ISLAMABAD:



After a marathon meeting, the country's political leadership on Wednesday approved a comprehensive plan of action against terrorism in a move described by Prime Minister Nawaz Sharif as a 'defining moment' in the fight against terrorism.




The 20-point National Action Plan that envisages establishment of special courts for speedy trial of terror suspects and a crackdown on jihadi and sectarian outfits was announced by the prime minister in a televised address to the nation late Wednesday night following a daylong meeting of the heads of all parliamentary parties at the Prime Minister House.

In his televised address, the prime minister said that the December 16 Peshawar school massacre has drawn a line between 'coward' terrorists and the Pakistani nation. "A line has been drawn. On one side are coward terrorists and on the side stands the whole nation," he said.

"The Peshawar atrocity has changed Pakistan. We need to eradicate the mindset of terrorism to defeat extremism and sectarianism," he said. "This horrendous attack has shaken the nation as the terrorists attacked the future of this country."

Elaborating the 20-point National Plan of Action, the prime minister said that execution of convicted terrorists will continue. Earlier this month the premier had revoked a six-year moratorium on the death penalty in terrorism-related cases. Six convicted terrorists have been hanged since the lifting of the ban.




He said that special trial courts would be set up across the country for two years in order to ensure speedy trial of terror suspects.

The establishment of these courts was the main sticking point in the marathon meeting of the parliamentary parties as some parties, including the MQM and PPP, had reservations. However, these reservations were addressed after MQM chief Altaf Hussain and PPP Co-Chairman Asif Ali Zardari were contacted by phone. According to sources, the MQM and PPP sought surety from army chief General Raheel Sharif and ISI chief Lt Gen Rizwan Akhtar that military courts will not be used against them.

An amendment will be made in the Pakistan Army Act 1952 for the establishment of these courts. The number of military courts will be according to the number of terrorists in a province. These will try all terrorists – whether they carry out attacks on military installations or civilians.

The prime minister said that a 5,000-strong dedicated counter-terrorism force would be established and deployed across the country.

He said that no armed militias will be allowed to function in the country and funding of terrorists and terrorist organisations will be choked, while effective steps would be taken to ensure that proscribed organisations don't reemerge under different names.

Sources told The Express Tribune that Jihadi organisations fighting in Indian-held Kashmir or elsewhere would be disarmed and a crackdown would be launched against them immediately. Leaders of these groups would be tried in the special courts. Their offices would be sealed and their charity works and programmes would be stopped, they added.

Similarly, the National Plan of Action envisages registration and regulation of all Madaris. Interestingly, during the meeting of the parliamentary parties, almost all participants agreed with JUI-F chief Maulana Fazlur Rehman that this issue should not be discussed as it would create uproar in the country.

"First fight with terrorists, then focus on Madrassa reforms," Fazl was quoted as saying in the meeting. However, the meeting decided that those Madaris that have been established without an NOC or occupied illegal land should be banned.




Sources said that the action against terrorists in Balochistan and Karachi, and militancy in Punjab dominated the debate during the meeting. Under the National Plan of Action, the Karachi operation would be taken to its logical conclusion, while there would be zero tolerance for militancy in Punjab. In Balochistan, the provincial government would be empowered to start political reconciliation with complete ownership by all stakeholders

Earlier in his opening remarks at the meeting of the parliamentary parties, the prime minister said, "This agreement is a defining moment for Pakistan. We will eliminate terrorists from this country. We have the backing of the nation."

"Our resolve to fight terror is a strong message for those who want to destroy Pakistan. Time for half-baked decisions is over. We agree that we have to implement it immediately," he added.

Army chief General Raheel Sharif also briefed the participants about his meeting with the Afghan and ISAF commanders, who, he said, assured him of their full support in fighting militants. "Army has launched operations against terrorists and has killed 2,100 terrorists during Zarb-e-Azb and Khyber-I," he added.

Interior Minister Nisar Ali Khan while briefing the meeting urged K-P, Sindh and Balochistan provinces to exercise Article 245 of the Constitution to requisition the army. At present 10,000 army troops are deployed in the country but only the federal and Punjab governments have requisitioned the army.

PTI's Vice Chairman Shah Mehmood Qureshi said that their concerns about a timeline and implementations of the National Action Plan have been accepted. "We suggested the federal government re-prioritise its policies and divert all funds for the action plan."

MQM's Dr Farooq Sattar said these are extraordinary circumstances and they got surety from the concerned that special courts would not be misused against them. He said the Protection of Pakistan Act was unfortunately being used for political victimisation.

Overview of National Action Plan

Following is summary of the short-term National Action Plan against terrorism announced by Prime Minister Nawaz Sharif in a televised address to the nation late Wednesday night:

1- Execution of convicted terrorists will continue

2- Establishment of special trial courts for two years for speedy trial of terror suspects

3- A commitment to ensure that no armed militias are allowed to function in the country

4- Strengthening and activation of NACTA

5- Countering hate speech and extremist material

6- Choking financing for terrorists and terrorist organisations

7- Ensuring against re-emergence of proscribed organisations

8-  Establishing and deploying a dedicated counter-terrorism force

9-  Taking effective steps against religious persecution

10- Registration and regulation of madrassas

11-  Ban on glorification of terrorism and terrorist organisations through print and electronic media

12- Administrative and development reforms in Fata with immediate focus on return of IDPs

13- Dismantling communication networks of terrorist organisations

14- Tangible measures against abuse of internet and social media for terrorism

15- Zero tolerance for militancy in Punjab

16- Taking the ongoing operation in Karachi to its logical conclusion

17- Empowering Balochistan government for political reconciliation with complete ownership by all stakeholders

18- Dealing firmly with sectarian terrorists

19- Formulation of a comprehensive policy to deal with the issue of Afghan refugees, beginning with registration of all unregistered illegal refugees

20- Revamping and reforming the criminal justice system, to strengthen counter-terrorism departments including granting of powers to the provincial CIDs to intercept terrorist communications

Published in The Express Tribune, December 25th, 2014.