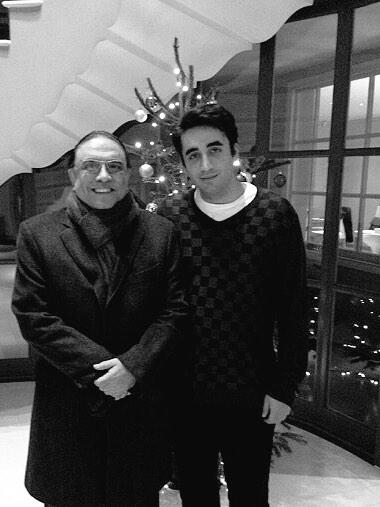 ---
In an attempt to dispel reports of differences between Pakistan Peoples Party (PPP) chairman Bilawal Bhutto Zardari and his father PPP co-chairman Asif Ali Zardari, the former tweeted a picture of the two together in London. 
Solidarity with my Christian brothers and sisters #BlackDecember pic.twitter.com/mDOZb4Q4aI

— BilawalBhuttoZardari (@BBhuttoZardari) December 24, 2014


Sindh Chief Minister Qaim Ali Shah on Thursday also clarified that there are no differences between Bilawal and his father, Express News reported.

Reports of an alleged rift between the father and son began to surface after Bilawal reportedly decided against addressing PPP workers on Foundation Day because of his differences with PPP's central leaders regarding the party's stance vis-à-vis the Pakistan Muslim League-Nawaz (PML-N), PPP officials told The Express Tribune.

Over and above that, a meeting between PPP stalwart Makhdoom Amin Fahim and former president General (retd) Pervez Musharraf -- the main accused in the Benazir Bhutto murder case -- reportedly made an already disgruntled Bilawal more uneasy with the Bhutto scion responding with an apparent dig at Fahim:


Aamriyat ka jo yaar, ghadaar hai, ghadaar hai

— BilawalBhuttoZardari (@BBhuttoZardari) December 19, 2014


According to media reports, Fahim was allegedly set to join an 'anti-PPP' group, comprising members of the Muttahida Qaumi Movement (MQM) and Pakistan Muslim League-Functional (PML-F), among others.

Interestingly, the meeting prompted two senior PPP leaders — Leader of Opposition in the National Assembly Khursheed Shah and former prime minister Raja Pervez Ashraf — to hold a meeting with Fahim at his residence in Karachi.

Moreover, the Sindh chief minister, in this regard, said Fahim was not upset with the party and was not going to leave it, Express News reported.

Interestingly, with the drought in Tharparkar making headlines earlier in the year, there were also reports of a rift between Bilawal and Sindh Chief Minister Qaim Ali Shah with the former reportedly issuing show cause notices to the latter and provincial Deputy Secretary General Manzoor Hussain Wassan over mishandling of the crisis in Tharparkar.

However,  three days after issuing show-cause notices, the party's chairperson Bilawal Bhutto Zardari withdrew the notices, ultimately blaming the media of false reporting.

A spokesperson at Bilawal House, justifying the chairperson's decision, said: "The media ran a false report, which is why the show-cause notices have been withdrawn. An intra-party inquiry is being conducted under the supervision of the chairperson and action will be taken after it is completed."
COMMENTS (18)
Comments are moderated and generally will be posted if they are on-topic and not abusive.
For more information, please see our Comments FAQ