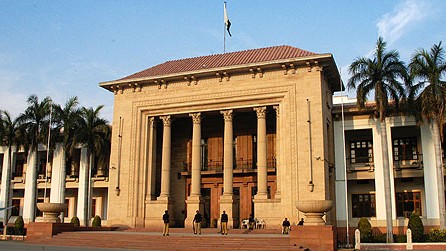 ---
LAHORE: Treasury member Sheikh Alauddin on Thursday raised issues related to school dropouts, private schools fees and coverage of proceedings at the Punjab Assembly.

The session started with a delay of nearly an hour and witnessed low attendance.

Alauddin gave a tough time to Parliamentary Secretary for Law and Parliamentary Affairs Nazar Gondal.

He said the poor standard of teaching at public schools was one of the reasons for the high dropout rate. He said private schools were cashing in on the situation. The secretary said more than 150,000 children had been enrolled in schools over the last year. He said attendance at schools had increased due to better monitoring. Alauddin said that nearly Rs170 million had been doled out in salaries for teachers at Aitchison College who had not taken a single class in the entire academic calendar.

He asked if the House was willing to discuss private schools and their fee structure during the current session.




Deputy Speaker Sardar Sher Ali Gorchani, who chaired the session, said a decision in this regard would be taken on Friday (today).

Syed Waseem Akhtar said Bahawalpur University was operating without a permanent vice chancellor. He said the candidates being considered for the office were from central or northern Punjab. He pressed for reaching out to talented candidates from Bahawalpur for the position.

Alauddin said assembly's proceedings should be accessible to the public at large. He cited the example of the Sindh Assembly in this regard.

The question hour session related to Labour and Human Resource, Youth Affairs, Sports, Archaeology and Tourism Departments.

The minister for labour and human resource responded to questions. Parliamentary Secretary for Youth Affairs, Sports, Archaeology and Tourism Chaudhry Sarfraz Afzal responded to questions related to his department in the absence of minister Rana Mashhood Ahmad Khan.

The Punjab Institute of Quran and Seerat Studies Bill 2014 was passed, with little more than 50 lawmakers present in the assembly at the time. The session will resume at 9am on Friday (today).

Published in The Express Tribune, December 12th, 2014.