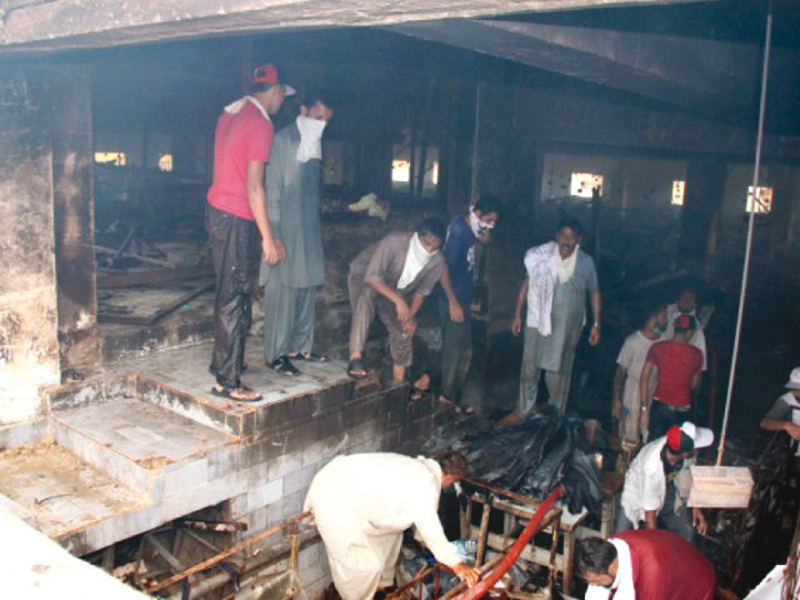 ---
KARACHI: Two years after a fire in a garments factory in Baldia town claimed 259 lives, the situation in hundreds of factories across Sindh has still not improved.

Thousands remain vulnerable to incidents such as the one that took place on September 11, 2012 at Ali Enterprises and the government fails to ensure workplace safety as labour laws are not implemented.




Civil society and trade union representatives expressed concern over the situation of factory workers at a press conference at the Karachi Press Club on Tuesday. Pakistan Institute of Labour Education and Research (Piler), Human Rights Commission of Pakistan (HRCP), All Pakistan Trade Union Organisation, Urban Resource Centre, Muttahida Labour Federation, Pakistan Fisher Folk Forum, and Hosieries, Garments and Textile Workers General Union representatives participated in a joint press conference in which the speakers highlighted the conditions that the workers are subjected to.

Piler executive director Karamat Ali discussed the judicial commission inquiry report of the Ali Enterprises fire that claimed 259 lives and injured 55 others, and talked about Piler's legal struggle as they attempt to get justice for the victims' families. He claimed that Piler would be holding different programmes along with other organisations on the second anniversary of the incident to show solidarity with the victims and their families. A candle light vigil will be held to remember the victims at the Arts Council and a round table conference regarding health and safety issues will take place at the Shaheed Zulfikar Ali Bhutto Institute of Science and Technology.

Ali said in his address that programmes will also be held in India, Nepal and Bangladesh to remember the victims. "We are trying to build as much pressure as we can in order to force KIK-the German company which was the major shareholder in Ali Enterprises - to pay compensation money to the victims' families," claimed Ali. "We have also filed a petition against Registro Italiano Navale (Rina), which issued an SA8000 certificated to Ali Enterprises, and a criminal case against the company is also ongoing in Italy. We are planning to file another case to demand compensation from Rina."

HRCP's Asad Iqbal Butt said that government institutions have failed to take action despite the high death toll. "Our government organisations have not learnt anything from the past incidents," he said, adding that the Ali Enterprises factory is yet to be inspected. "Maybe they are waiting for another such incident and will only do their job after that."

Published in The Express Tribune, September 10th, 2014.
COMMENTS
Comments are moderated and generally will be posted if they are on-topic and not abusive.
For more information, please see our Comments FAQ