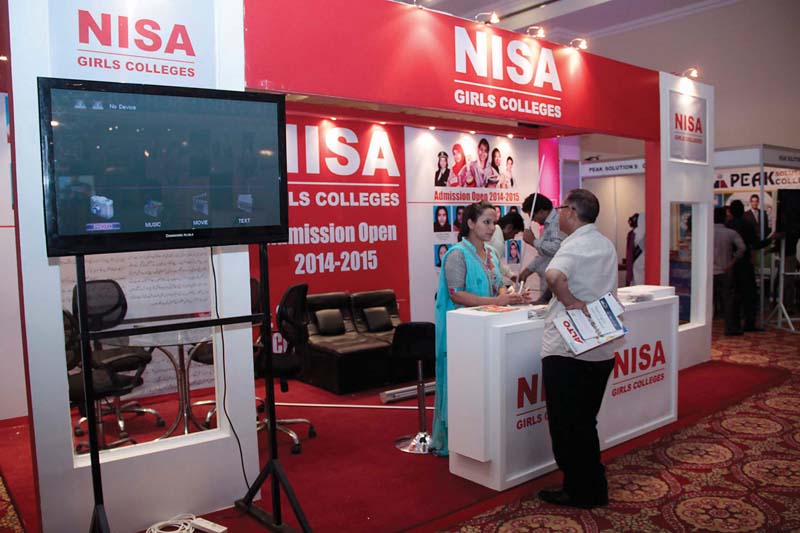 ---
LAHORE:



The Express Education and Careers Expo started on Thursday featuring 70 schools, colleges and universities. Education counsellors and experts are part of the two-day expo at the Faletti's Hotel.




This is the first time the Express Education and Career Expo is being held in Lahore. Two such expos were organised in Karachi and Islamabad in May.

Columnist Orya Maqbool Jan opened the event.

Apart from a large number of students, Government College University Vice Chancellor (VC) Khaleequr Rahman, Lahore College for Women University VC Sabiha Mansoor and Lahore Board of Intermediate and Secondary Education Chairman Nasrullah Virk visited the expo on the first day.

"Such activities are encouraging. They are aimed at catering to educational needs of the youth," said Jan at the launch of the educational fair. He stressed the need for organising such events more frequently.





Academic counselling along with fun-filled activities make the  expo unique in Pakistan. PHOTO: SHAFIQ MALIK/EXPRESS




Ports and Shipping Minister Kamran Michael also graced the show. He said the country's youth had made their mark in all fields. "All we need is to provide them greater opportunities so that they may explore more avenues," the minister said.

He said the government encouraged the ventures that help hunt the talent and groom the young leaders.


Academic counselling along with fun-filled activities make the  expo unique in Pakistan. PHOTO: SHAFIQ MALIK/EXPRESS

"Several initiatives have been taken in this regard," Michael said.

Stalls of educational institutions remained crowded throughout the day as students took keen interest in study courses being offered.

The participating institutions include the Forman Christian College, the University of Gujrat, the Allied Schools, the University of Lahore, the Bahauddin Zakariya University Lahore campus, the Institute of Chartered Accountants of Pakistan, the University of Management of Technology, the National Testing Service, the University College of Engineering, Sciences and Technology, the Lahore Garrison University, the Information Technology University, Hajvery University, the Professional Academy of Commerce, Nisa Girls College. The Oxford University Press has also set up a stall at the expo.


Academic counselling along with fun-filled activities make the  expo unique in Pakistan. PHOTO: SHAFIQ MALIK/EXPRESS

Those who visited the College of Tourism and Hotel Management (COTHM) stall said they were impressed by the novel programmes being offered by the institution. They said the courses on offer, including those on culinary arts and hotel management, were not common in Pakistan.

Sabeen Farzand, who works at the admission office at COTHM, said many potential students were unaware of variety of programmes in the past.

"Awareness about our programmes has improved with the introduction of food television channels in Pakistan," Farzand told The Express Tribune.

"What is more encouraging for us is that more boys than girls are enrolling in our institutions."

The Imperial College of Business Studies (ICBS) stall offered an up to 15% scholarship in the form of fee waiver to those registering during two days of the expo.

It is offering admission to engineering, business studies, humanities and social sciences courses.

ICBS Coordination Officer Sana Chaudhry said the fee discount had attracted a large number of students. She said most queries were related to fee structure.

The coordinators at eLearn Punjab, Maryam Shahzadi and Noreen Anwar, were seen preoccupied with not only handing out information pamphlets but also in organising games and art competitions.


Academic counselling along with fun-filled activities make the  expo unique in Pakistan. PHOTO: SHAFIQ MALIK/EXPRESS

"What we aspire to do is to spread awareness about our project through games and fun activities… this is what we focus on through our educational games," said Shahzadi.

CDs of interactive games, compiled and created by an eLearn Punjab team, are being sold for Rs60.

The Sharif College of Engineering and Technology, Raiwind, has also set up a stall.

Muhammad Imran, an admission officer, said the college had been offering courses in electrical and chemical engineering for three years.

"Already, students are visiting us in encouraging numbers. We are hoping for even a better turnout on the second day of the fair," Imran said.

The Allied Schools' stall attracted a large crowd through its interactive board on display.

Giving a demo of the interactive board, Habib Raza from the Allied Schools' IT team said, "The interactive board technology is being employed up to primary level studies. It helps teachers engage children through interactive learning."

The interactive interface allows students and teachers to perform various tasks by using touch screens. These included games, quizzes and numerical problems, Raza said.

He said efforts were underway to implement the technology at the higher education level.

Students kept counsellors busy at their stalls seeking information on various topics. Hundreds of students took part in several competitions, including debates, dramatics, dancing and singing.


Academic counselling along with fun-filled activities make the  expo unique in Pakistan. PHOTO: SHAFIQ MALIK/EXPRESS

A segment on giving an innovative business idea was part of the competitions organised by 20 colleges and universities from Lahore and Faisalabad. A painting competition sponsored by Brighto Paints provided visitors with an opportunity to exhibit their artistic skills.

"We have come to the expo to participate in all the fun activities apart from interacting with students and information officers from different universities. It's a great experience," said Aiman Tahir, a 5th semester Fine Arts student at the Institute of Art and Design.

She said she had taken part in a painting competition along with her 3rd semester fellow Rohail Rahat.

"Although students are turning up for information and career counseling, there are showing keen interest in competitions, especially the painting competition," said Fiza Yousaf, a volunteer from the STEP Institute of Art, Design and Management.

The expo will continue on Friday (today) from 10am to 7pm. The last day of the expo will feature counselling and information desks along with several fun-filled activities.

You can see more pictures of the first day of Express Education and Careers Expo here. 

Published in The Express Tribune, August 22nd, 2014.
COMMENTS
Comments are moderated and generally will be posted if they are on-topic and not abusive.
For more information, please see our Comments FAQ