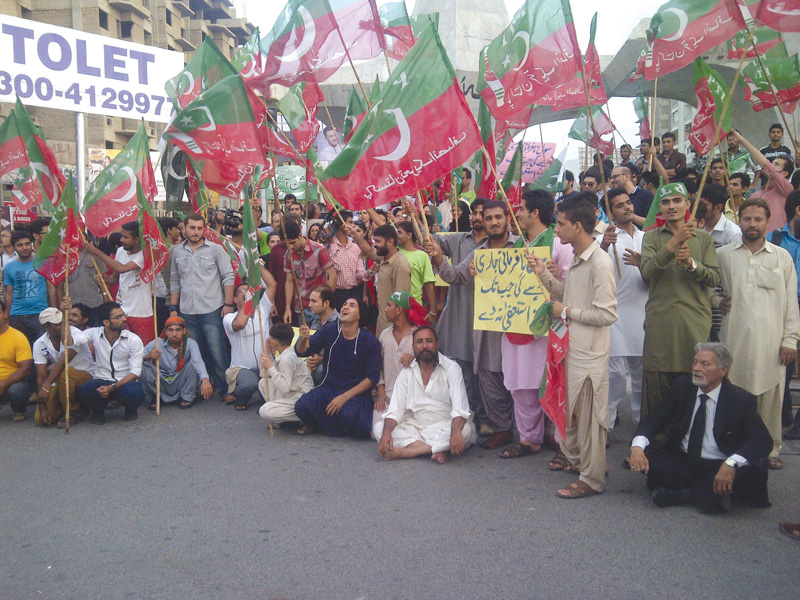 ---
KARACHI: 'Qadam barao Imran Khan, hum tumharay saath hain [Step forward, Imran Khan. We are with you],' roared the crowd at the Teen Talwar roundabout on Wednesday, sending a message to their leader who was miles away in Islamabad.

Several workers of the Pakistan Tehreek-e-Insaf (PTI) gathered at Teen Talwar, occupying the busy roundabout for a sit-in as they danced to party songs. "This protest is for those who couldn't go to Islamabad," explained Awab Alvi, the son of PTI MNA Arif Alvi who has won from the same constituency as the sit-in site. "I couldn't go because my father was already there and one of us had to be stay behind at home," he said.

The crowd was asked to gather at 6pm and, by 7pm, a significant number of men and women had joined. "This is being held in solidarity with the long marches," Awab said proudly, stopping to take pictures of the crowd. A man on the microphone shouted slogans in favour of Imran Khan and against the prime minister. The crowd, holding party flags and placards with 'Nawaz Sharif Murdabad' penned on them, applauded in response.

Awab said they have received permission to stage their sit-in at Shaheed Benazir Bhutto park on Boat Basin and are planning to move there. "We don't know how long the sit-in will continue for," said Awab, adding that they plan to stay till late night.

As the sit-in started, policemen from nearby stations came to take their positions. They stood across the road, staring at the highly charged protesters. "We don't want a revolution, we want change," claimed one protester.

Clad in a 1992 cricket world cup Pakistan jersey, young businessman Shiraz came to the venue to get a feel of what was going on in the capital. "My mother told me not to go," he admitted. Shiraz and his friends said they want fresh polls. "It's okay if Imran Khan is not the next prime minister but the elections should be held again. We don't want this fake government."

Another protester, Shazia Arsalan, was sad she couldn't go to the long march in Islamabad because she couldn't leave her children alone but she was proud to say she was actively lobbying for PTI on Facebook. Another man in the crowd, Aftab Jehangir, had attended the long march in Islamabad but returned to Karachi on Monday as he had slipped and injured his back. "For 24 hours, I stood in the rain in Islamabad and did not sleep. This was the level of energy and excitement there," he recalled. "I'm happy I will be able to tell my grandchildren that I created Naya Pakistan for you," said the man smiling with hope.

Similarly, Shiza Nadeem, dressed in red and green - the colours of the PTI flag - said they will continue to support Imran Khan even if he fails. "Khan sb has come out on the street for us," she said. "If nothing succeeds, we will still love him as he tried to bring change."

However not everyone thought this way. A bearded man, Abid Billo, complained that dancing and singing will not bring 'inquilab [revolution]'. "This is just a waste of time," he said. As Abid grumbled away, the crowd roared 'tabdeeli ayegi [change will come]' a few metres away.

Published in The Express Tribune, August 21st, 2014.
COMMENTS (2)
Comments are moderated and generally will be posted if they are on-topic and not abusive.
For more information, please see our Comments FAQ