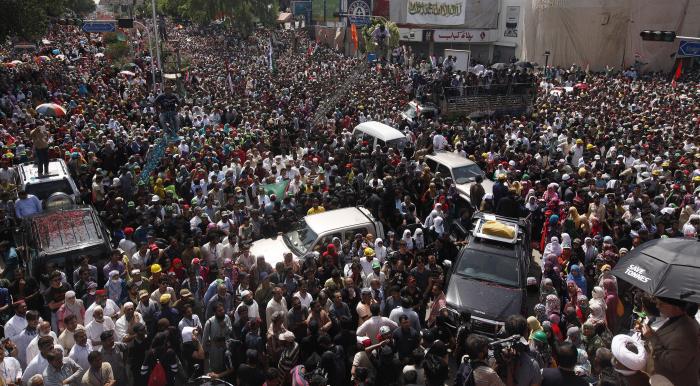 ---
LAHORE: The battle of nerves between anti-government protesters and government supporters spilled on to the Lahore High Court on Monday, when a flurry of petitions were filed both against and in support of the Inqilab and Azadi marches.

A day after Pakistan Tehreek-e Insaf (PTI) chairman Imran Khan gave the call for 'civil disobedience' to force Prime Minister Nawaz Sharif out of office, advocate Kashif Mahmood Sulemani filed a petition arguing that the call for civil disobedience fell within the ambit of sedition against the state and its laws.

Seeking a court order declaring Imran Khan's call for civil disobedience unconstitutional, the petition argued that the PTI chief's declaration was meant to incite citizens towards disloyalty with Pakistan, and aimed at paralysing state machinery.

In another petition, Barrister Javed Iqbal Jafri petitioned the court to ensure that the names of Prime Minister Nawaz Sharif, Punjab Chief Minister Shahbaz Sharif, Interior Minister Chaudhry Nisar Ali Khan and other PML-N leaders are placed on the Exit Control List (ECL).

The petition comes after a session court sought registration of an FIR against PML-N leaders on the application of Idara Minhajul Quran which has accused the highest rung of government of being involved in the deaths of its 14 party members in Model Town Lahore. Jafree has alleged that the accused may flee the country after the court order. Barrister Jafree has also sought review of a full bench order against protest marches of PTI and PAT.

Meanwhile, a citizen Zubair Ahmad has filed a separate petition in the LHC asking the court to order the Punjab government to make public findings of the inquiry held by a judicial tribunal into the Model Town incident.

In his petition, Ahmad has argued that the government has put the inquiry report in cold storage and is avoiding its release in order to protect those responsible for the killings of PAT supporters. He asks the court to direct the government to release the tribunal's report so that the actual culprits could be taken to task.

Published in The Express Tribune, August 19th,2014.