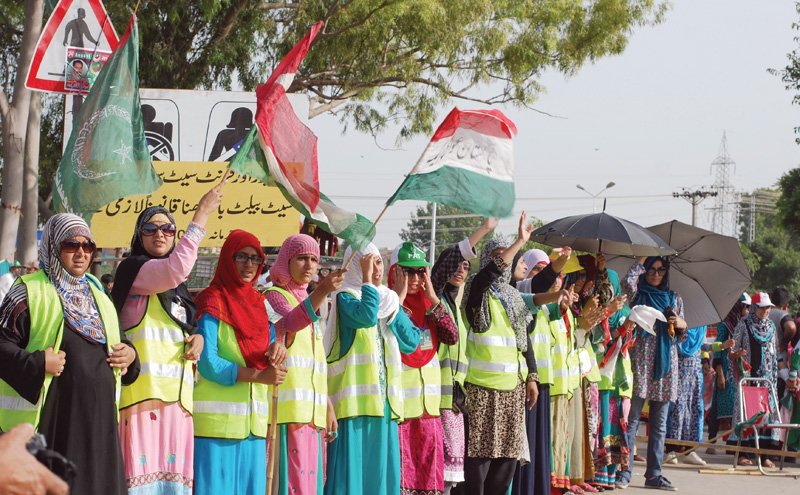 ---
ISLAMABAD:



Female supporters of Pakistan Awami Tehreek (PAT) and their children spent the night along the sidewalks of Khayaban-e-Suhrwardy Saturday night. Aabpara Market – a commercial zone in Islamabad – was converted into a massive but makeshift resting area for thousands of women and children.




Perveen Kausar, a 45-year-old PAT activist, was seen lying in a bank corridor, wiping the sweat off her brow with her veil. She began her journey at 10:00am from Khariyan to the federal capital with her family just to make it in time for Dr Tahirul Qadri's Inquilab march. Kausar says that arrangements were made to provide women and children with food.





Thousands of women supporting the PAT chief have vowed to continue their march until they are asked to retreat. PHOTO: HUMA CHOUDHARY/ EXPRESS




Another supporter of the PAT chief from Lahore told The Express Tribune that she had been accompanied by 1,500 women from Lahore. She added that over 200,000 women and their children were expected to participate in the march.

The PAT activists continued to camp out in the open air until Sunday afternoon, despite the rains that lashed the city. Some women sought shelter in nearby buildings to ensure that their children slept well through the night.

Moreover, a medical camp was established by PAT in a dilapidated building near Aabpara Market. The camp has catered to over 800 patients since Saturday.

Speaking to The Express Tribune, PAT activist Ashiq Ali –who is in-charge of medicine procurement – said that two female doctors and two male doctors are working round the clock to facilitate supporters.

Thousands of women supporting the PAT chief have vowed to continue their march until they are asked to retreat.




"We will continue to sit here under the scorching sun or even heavy rain." said 16-year-old Aqsa, a PAT supporter who is attending the rally from Lahore.

PTI women draw back

Meanwhile, in Pakistan Tehreek-e-Insaf's Azadi march on the Kashmir Highway, a small group of PTI's female activists accompanied MNA Nafeesa Khattak as she marched towards the containers.

Speaking to The Express Tribune, a member of the PTI's women wing said that there was complete mismanagement of the rally and women participation remained low.

"I had contacted several friends and party workers who regularly attended the rallies. However, they did not come today," she said.

Furthermore, there were no medical camps established for the PTI supporters and an announcement was made to request doctors to facilitate those supporters who were unwell.

Published in The Express Tribune, August 18th,2014.