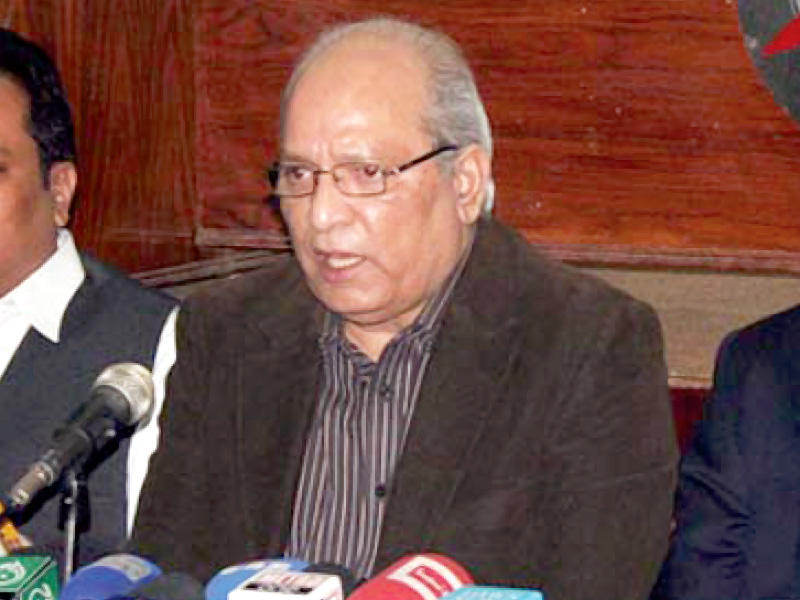 ---
ISLAMABAD:



Central Secretary Information of the Pakistan Muslim League-Nawaz (PML-N) Senator Mushahidullah Khan has said that the people have rejected the undemocratic agenda of the Pakistan Tehreek-e-Insaf (PTI) chairman Imran Khan as a very small number of his supporters turned up at his sit-in.




This shows that the people only want the country's development and that they have nothing to do with the desire of the PTI chief to become the prime minister, Mushahidullah said in a statement on Saturday. He added that the people only wanted that Pakistan should be recognised as a respectable country of the world.

He advised Imran Khan not to adopt an undemocratic attitude and instead work for the welfare of people of Khyber-Pakhtunkhwa (K-P), where the PTI is in power. "Everyone should accept the decision of the people and respect the mandate. Imran Khan should provide evidence to the judicial commission for investigation of electoral rigging instead of demanding resignation from the prime minister."

Separately, Minister for Railways Khawaja Saad Rafique said negotiations could be started with both Imran Khan and Tahirul Qadri within two to three days. He said the political situation could change with time but issues could be resolved politically by sitting across the table. He hoped that Imran's colleagues, who are seasoned politicians, would never allow the PTI workers to take any unconstitutional step.

He also advised the PTI to focus on resolving the issues of K-P and avoid holding protest demonstrations. "It is very unfortunate that the K-P cabinet arrived in the federal capital for holding protest, leaving the internally displaced persons (IDPs) in the lurch," he said.

Rafique's cabinet colleague Ahsan Iqbal, who is minister for planning and development, had similar words of advice for the PTI chief. "This is time to help the IDPs and rain affectees," he said while talking to state-run PTV.

He said K-P Chief Minister Pervez Khattak, along with his cabinet members, had arrived in the federal capital and left the IDPs and rain-stricken people in the lurch.

"It is very unfortunate that the CM K-P with all official protocol is sitting in the federal capital to participate in the PTI march," he said and demanded of the PTI to resign from the K-P government for not providing relief to the affected people. 

Published in The Express Tribune, August 17th, 2014.
COMMENTS
Comments are moderated and generally will be posted if they are on-topic and not abusive.
For more information, please see our Comments FAQ