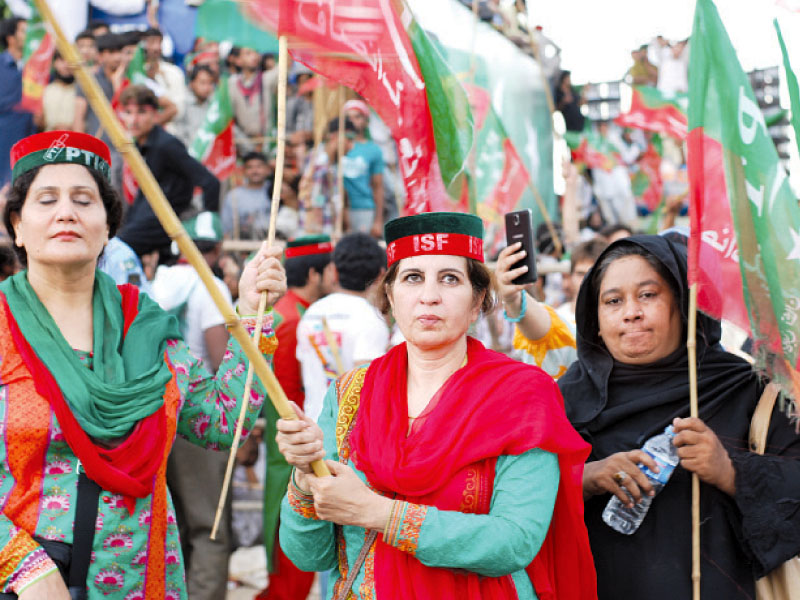 ---
ISLAMABAD:



Workers of Pakistan Tehreek-e-Insaaf (PTI) and Pakistan Awami Tehreek (PAT) claim to have reached their saturation point vis-à-vis 'revolution' marches to 'save the country'.




Before the speeches of PAT and PTI leaders on Saturday, participants shared their political views and problems with The Express Tribune.

"This is the last chance for both parties to reform the system. After this, if no change comes, people will stay home," said 42-year-old Tahir Mehmood, clad in a white shalwar kameez with a green shawl draped over his shoulders. Most of the participants were mingling and visiting each other's camps.

Mehmood, a PAT worker since 1994, was present along with his two sons who were rooting for Imran Khan while his wife, a PTI worker since 2006, sat at the other camp.

His priorities regarding flags were quite straight --- he carried a Pakistani flag while his sons, Shayan, 11, and Aryan, 8, held a PTI and PAT flag each. "Pakistan's flag is my top priority. Party flags come second," said Mehmood, adding that his wife was a staunch supporter of the PTI but there has been complete political harmony in their house while discussing political issues.

He along with many others made it clear that they would not take part in political activities or pay any heed to calls for long marches if the leaders compromised. "We'll quit if the parties compromise on our sacrifices this time around," he said. A long queue of workers from both parties was witnessed who were waiting for their turn to get free medicines from a mobile van in the PAT camp.

"Our problems are the same and we can get rid of them by staying united," said an elderly man in the queue.

Mrs Nabeel, a PTI supporter, said she and her two sons had come from Lahore to support PTI's first and foremost demand: sending the 'corrupt government' home.

She and other participants were agitated when asked why the party leadership was unable to come up with the promised million workers.

"This fight is for the implementation of the 10-point agenda. It doesn't matter who rules the country afterwards," said Mujahid Mehmood, a teacher.

Similarly, Sharifan, 70, came with 80 members of her family on the call of PAT chief Dr Tahirul Qadri. She revealed they have brought around 200 people from her village and her 10 sons have contributed around Rs100,000  each to met their daily expenses during their stay in Islamabad. She claimed they all have come voluntarily.

Meanwhile, one-and-a-half-year-old Amna was among the youngest participants at PAT's rally.

Rehana Khanwez said she was pregnant with Amna last year when she attended the January 2013 PAT sit-in . "We have come here for our children's bright future. That future is not secure unless we end this system based on discrimination," Khanwez said.

Published in The Express Tribune, August 17th, 2014.
COMMENTS (3)
Comments are moderated and generally will be posted if they are on-topic and not abusive.
For more information, please see our Comments FAQ