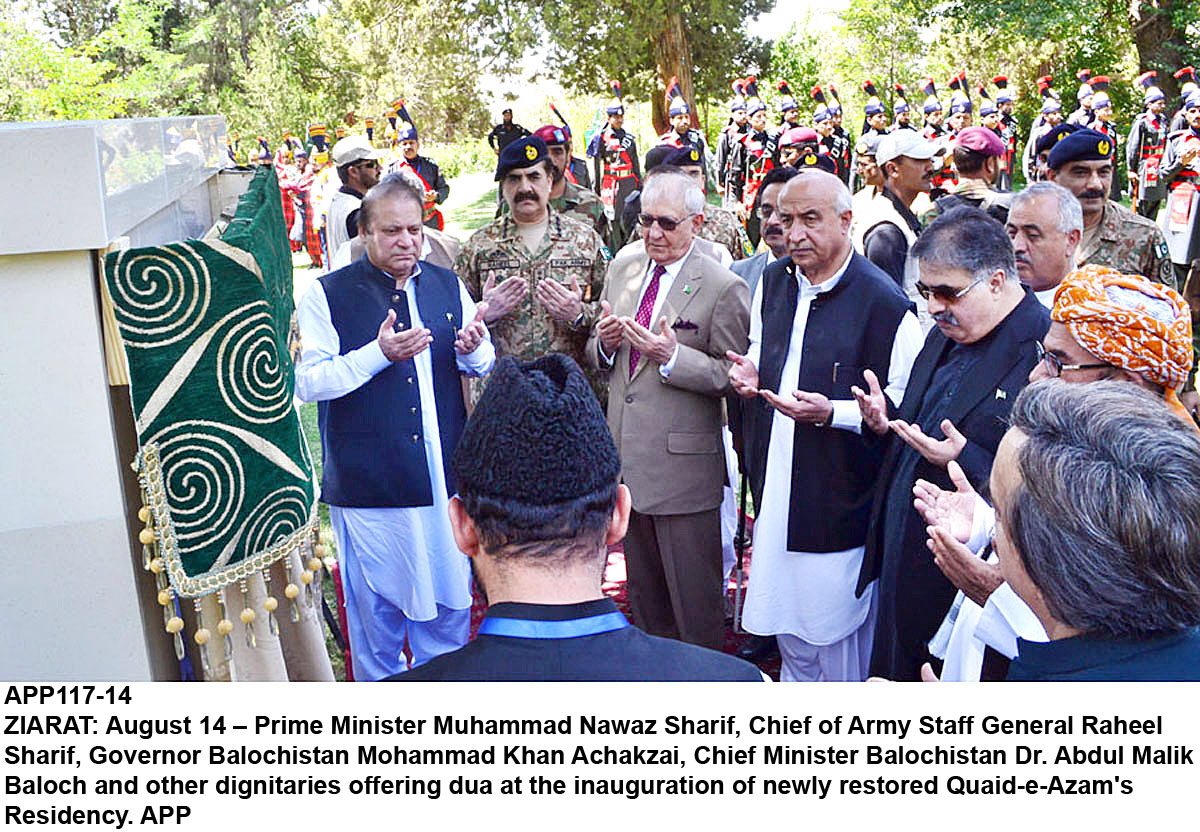 ---
QUETTA: Army claimed on Thursday that the those responsible for destroying Ziarat Residency have been arrested.

Director General Inter Services Public Relations (ISPR) Major General Asim Bajwa tweeted on Thursday that culprits responsible for destroying the Quaid-e-Azam's residency in Ziarat have been arrested.

Bajwa further said that efforts of the militants to damage Pakistan will fail.


#Shukriyapak: Terrorists gang who burnt Ziarat Residency busted,arrested.No to escape of culprits,space for terrorists.Resilience unmatched.

— Gen(R) Asim Saleem Bajwa (@AsimBajwaISPR) August 14, 2014
#ShukriyaPakistan: Renovation Ziarat residency. Our national resolve unmatchable by terrorists.Efforts to damage Pak will fail. Proud moment

— Gen(R) Asim Saleem Bajwa (@AsimBajwaISPR) August 14, 2014


Earlier, Prime Minister Nawaz Sharif said Pakistan would be a prosperous and economically sound country, if the country is given ten more years of peace without any kind of interruption in democratic set up.

He was inaugurating the Quaid-e-Azam's Ziarat Residency, which was destroyed by the militants on June 15, 2013. He hoisted Pakistani flag. Chief of Army Staff General Raheel Sharif, Balochistan Chief Minister Dr Abdul Malik Baloch, Governor Balochistan Mohammed Khan Achakzai, Commander Southern Command Lt General Naseer Hussain Janjua and other civil and military leadership were present on the occasion.

"A year ago terrorists targeted the house of the founder of Pakistan which was a tragedy. I appreciate the Balochistan government and all those people who had worked hard to restore the residency in months. The hard work and passion show the love and patriotism of Balochistan," said Nawaz in his speech.

"The restoration of residency in few months is a classic example for us. We will make Pakistan a developed and prosperous country, if we work the way people did with residency, "adding that "Balochistan will be developed as par with other regions of the country. We make the Baloch people believe that they have equal stake in this country and they have to equally contribute to improve the situation."

Addressing the inauguration ceremony, the premier said there is a need of positive politics to strengthen the democracy in Pakistan. "The negative politics should end by now. Pakistan is not ready for any kind of adventure. We are focusing on the future of Pakistan. We will build a better Pakistan, even if do not manage to win the next General elections," said Nawaz.

Taking a jibe at the long marches of Pakistan Tehreek-e-Insaf (PTI) and Pakistan Awami Tehreek (PAT), the prime minister said, "The genuine Azadi march is taking place in Balochistan, where the civillian and military leadership are jointly celebrating the 68th Independence Day of the country."

He further said that the marches are diverting the government's attention from national issues, such as the operation against militants in North Waziristan. "Those who have announced to march should focus on establishment of peace and development of the country," he added.

Criticising the Khyber Pakhtunkhawa (K-P) for holding long marches, he said that the K-P government should provide relief to the public by paying attention to education, law and order, energy crises as well as infrastructure.

Claiming that his party had acknowledged the mandates of other political parties, the prime minister said "Federal government is making its utmost efforts to retain peace in Karachi. The city used to witness targeted killings and lawlessness on a daily basis. One can tell the improvement in law and order situation in Karachi." he said. "PML-N wants to see a peaceful Karachi and Sindh.

"We have really good intention for everyone and want to maintain good relationship with every political party. We have never discriminated against anyone. Balochistan is a good example where nationalists were allowed to rule and federal government is cooperating with them," he said.

Nawaz reiterated that Gwadar will be the best port city of the region in few years and will strengthen the economy of Pakistan.

Nawaz reiterated that economic corridors from Khunjrab to Gwadar will prove to be a game changer for the area.

Lauding the role of civil and military leadership of Balochistan for retaining peace in the region, Nawaz said "Everyone can feel that law and order situation in the province has improved."

"Pakistan needs ten more years of peace and stability to attain the set goals of better economy and improved infrastructure."

Assuring that the coalition government will always stand by the democratic government, Balochistan Chief Minister said, "We will not let the conspirators succeed."

Acknowledging that there was a rapid decline in the incidents of kidnappings, targeted killings and sectarian violence in Balochistan, Baloch said, "Quetta used to be closed and plunged in darkness after sunset but now people roam on the streets until 3am."

The chief minister said that Balochistan was famous about the corruption few years ago. "There is a visible improvement and the menace of corruption is being eradicated while money is being spent on education and health," he added.

Claiming that in some areas of the province the ground water level have declined to as low as 1200 feet, Baloch requested the prime minister to launch a project for providing clean water to Quetta and other districts of Balochistan. "There is a huge gap in supply and demand. Government is worried about the water crisis in Quetta and other areas," he said.

The premier said that the case needs to be studied to determine what could be the best way to address the water crisis.

Malik informed that Balochistan is organising Balochistan Development Forum in Islamabad on August 18th. "We will discuss who to improve the economy of Balochistan and bring foreign investment to improve the lifestyle of the people of this backward province," he added