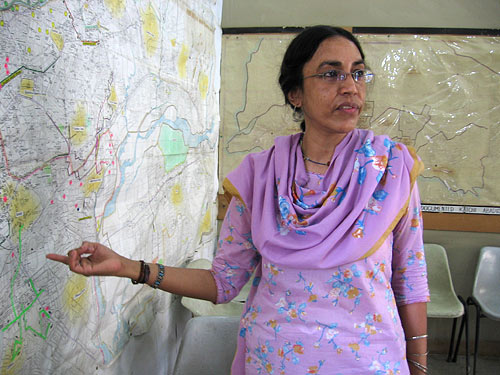 ---
ISLAMABAD: With the Supreme Court due to resume hearing of the murder case of former Orangi Pilot Project (OPP) director Perween Rehman in Karachi on Tuesday, Sindh police has told the petitioner that a seven member Joint Investigation Team (JIT) headed by DIG West has been constituted to probe the matter.

Gunned down in March 2013, the Human Rights Commission of Pakistan (HRCP), along with other organisations and individuals, had petitioned the apex court regarding investigation of Rehman's murder.

Raheel Kamran Sheikh, a counsel for the petitioner, told The Express Tribune that the Sindh police told them on Monday that a JIT has been constituted with DIG West heading the team. The team includes DIG CIA, SSP center, SSP Investigations, an ISI representative, an MI representative and a Ranger's representative.

He said that the Human Rights Commission of Pakistan had written a letter to Sindh police seeking details of the ongoing investigation. "Police has just informed us through telephone that a JIT has been constituted."

The counsel however expressed concern over how the JIT had yet to contact the petitioner for cooperation in the case in the last month. Sheikh further added that he has submitted a plea seeking adjournment of the case on Tuesday because he can not travel from Lahore owing to the roads blockages.

Meanwhile, a provincial law officer has confirmed that no major progress has been made in investigations because a key member of JIT was abroad. He claimed that heirs of Rehman did not contact JIT for cooperation in this matter and they have told the court about this.

In May, District and Sessions Judge Karachi West Ghulam Mustafa recommended that the murder should be reinvestigated by an efficient, independent and honest police officer.

At its last hearing, the Sindh police told the top court that section 7 of the ATA has been added in the case. According to the report, five cases have been registered related to the murder and a Joint Investigating Team (JIT) comprising of three officers had been constituted.

The last report had also stated that investigating officers had been directed to focus on collecting information about the identity of three fugitives involved in the murder. The Supreme Court's bench, headed by Justice Nasirul Mulk, which was hearing the case had observed that Rehman had no personal enmity with any one, but since she was campaigning against land grabbers and the tanker mafia, she may have become their target.

Subsequently, the investigating officers had been tasked with probing the alleged involvement of land grabbers and tanker mafia in this matter in view of the court's observations.
COMMENTS (1)
Comments are moderated and generally will be posted if they are on-topic and not abusive.
For more information, please see our Comments FAQ