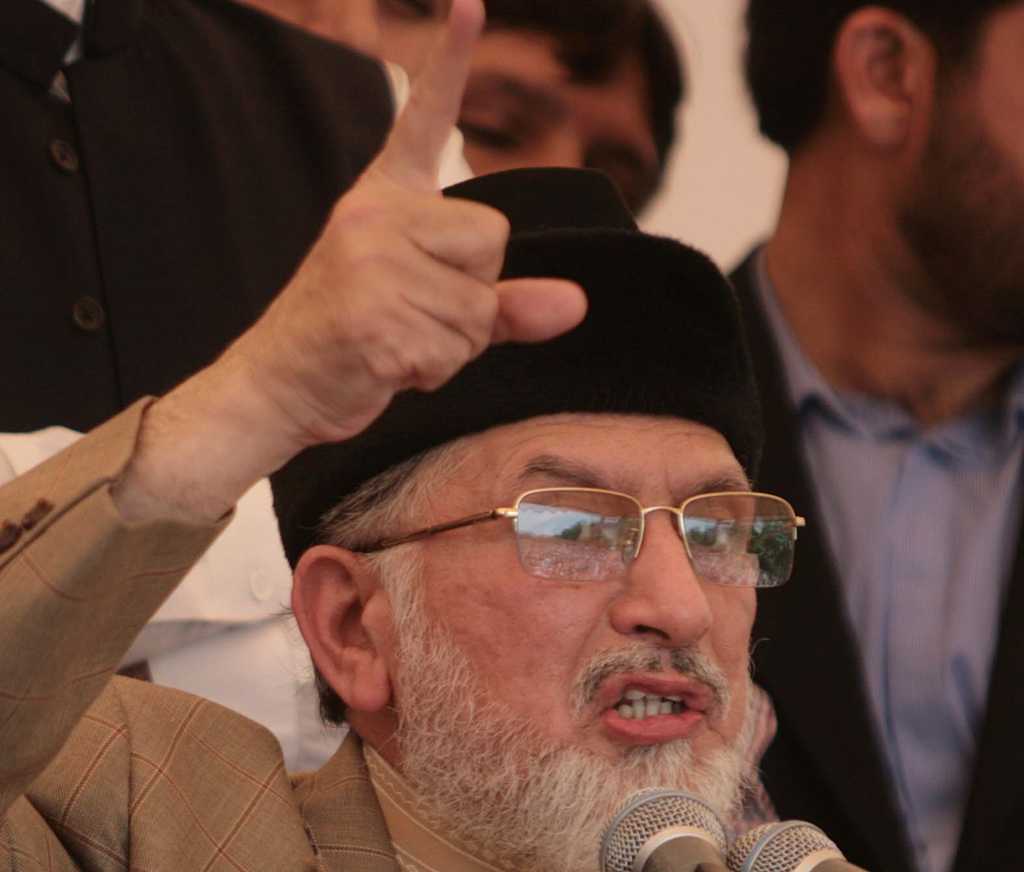 ---
LAHORE:



Pakistan Awami Tehreek (PAT) chief Dr Tahirul Qadri has said that Martyrs' Day will definitely be observed on August 10 and that PAT workers must not surrender.




"This is the path of revolution, and each step you take will go down in history," he said while addressing a press conference late on Friday night.

Dr Qadri, however, gave personal assurance that there would be no violence and aggression, if the Punjab government removed all barricades it has placed to stop the PAT workers from reaching Lahore.

He said the families of the victims of the June 10 Model Town incident were still awaiting justice but they have been denied their constitutional right.

"Whereas, those who committed the act of violence against innocent civilians have instead lodged FIR against the PAT workers, who were just defending themselves and were unarmed," he added.




Earlier in the day, Dr Tahirul Qadri called on workers of the PAT and Pakistan Tehreek-e-Insaf (PTI) to get united in their protests and abandon the leader who retreats.

"Activists of PTI and PAT are children of the nation and their fight will continue till devolution of power to the lowest level," Dr Qadri told a press conference.

He said all ways leading to the secretariat of Minhajul Quran were sealed for the last three days. However, he said, Martyrs' Day would be commemorated.

"All obstacles in the way of my followers are illegal and unconstitutional. PAT's brave workers are leaving their houses with high hopes and must reach the secretariat after removing all obstacles," he said, adding that those who ordered firing at his workers should now mind their own safety.

The PAT chief said there was no water available for those coming for Martyrs' Day at the secretariat. "I request the civil society of Lahore to take care of the people coming from different cities for participating  in the event," he said.

Lambasting the Punjab government, he said by trying to stop his workers, they had proved they did not follow any human norms and values.

He termed the Punjab government an 'internal terrorist'.

"[However,] Pak Army has eliminated terrorism from North Waziristan and now it will end this from Punjab too," he added.

He asked his followers not to worry and keep their hopes high. He said there would be prosperity after the revolution.

"Our march will continue till the fall of the present government. This is the last opportunity for the people of Pakistan to get rid of the cruel rulers and they should not lose it," he added.

In another media talk, Dr Qadri said Punjab government had ordered his security company to remove his private guards.

Published in The Express Tribune, August 9th, 2014.
COMMENTS (3)
Comments are moderated and generally will be posted if they are on-topic and not abusive.
For more information, please see our Comments FAQ