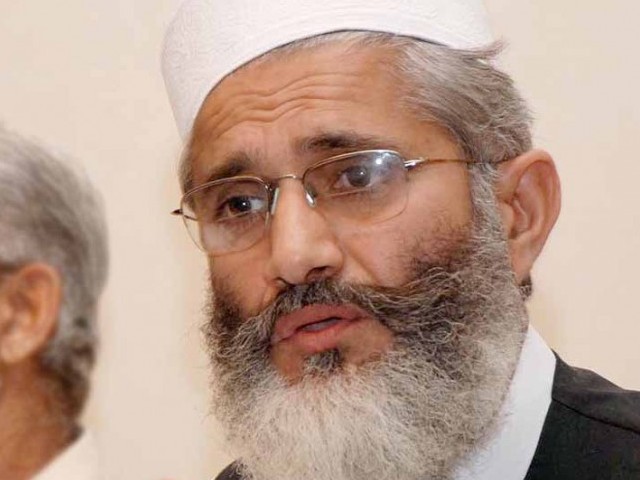 ---
ISLAMABAD:



The Jamaat-e-Islami (JI) on Monday distanced itself from a proposal by its senior coalition partner, Pakistan Tehreek-e-Insaf (PTI), to quit the Khyber-Pakhtunkhwa Assembly and force the federal government into accepting its demands.




"Resignation from the assemblies is not a popular proposal among the general public in the K-P as they have given us a five-year mandate," JI Ameer Sirajul Haq told reporters in Islamabad in the presence of his party's central leadership.




At the same time, the JI leader acknowledged PTI's right to resign or continue to stay in the assemblies as an independent political party. "However, the JI will not be a part of any such move and will continue to stay in the assemblies," he said, adding that his party would announce its political line of action after August 17.

Showing solidarity with the oppressed Muslims of Gaza in Palestine, the JI Ameer announced holding Palestine Day on August 17, where it will gather one million men in Karachi. A week before that, however, the JI plans to hold a major rally in Islamabad.

"The JI has also announced to provide Rs100 million as an assistance to the affected people in Gaza in addition to the six ambulances worth $60,000," he added.

Sirajul Haq called upon the Organisation of Islamic Countries (OIC) to immediately call its meeting in Islamabad to chalk out an effective strategy from the Islamic world against Israel's aggression. "I also ask the OIC countries to go to the International Court of Justice (ICJ) against the Israeli atrocities in Gaza," he said.

He said Jamaat-e-Islami would open contacts with all international rights groups in an effort to divert their attention towards the Gaza situation, where unarmed women, children, aged people and civilians are being killed by the Israeli forces.

He also urged the UN to call an immediate session of the Security Council and exert pressure on the Israeli government to stop its atrocities.

"I also ask Islamabad and the OIC to play their role to press the Egyptian government into opening its border with Gaza, where patients and civilians are badly stuck amid bombings and shelling," he demanded.

Haq appealed to all the political and religious parties and civil society activists to participate in the JI's rallies and highlight the humanitarian issue at the international level. "The JI has postponed the party's political activities for the sake of the Gaza people and will start political activities after August 17," he said.

Published in The Express Tribune, August 5th,2014.
COMMENTS (1)
Comments are moderated and generally will be posted if they are on-topic and not abusive.
For more information, please see our Comments FAQ