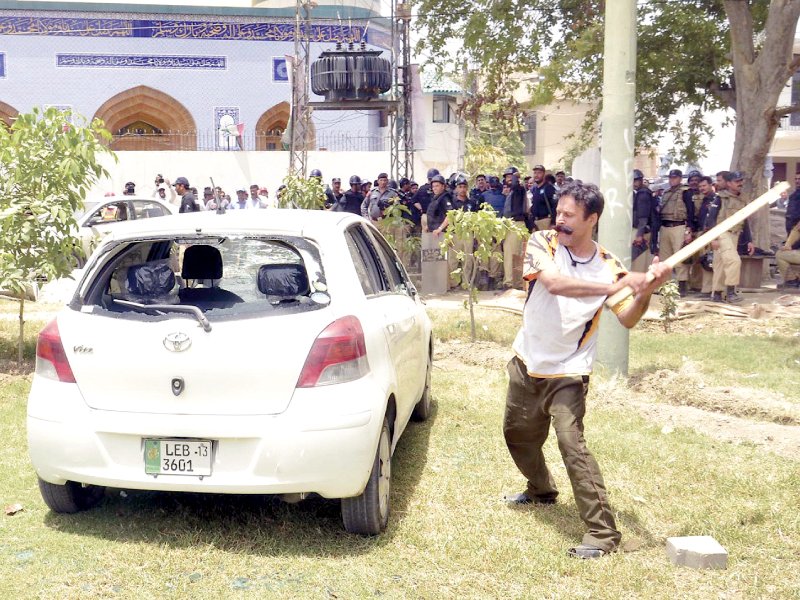 ---
Who on earth is Gullu Butt and what on earth is a 'police tout'? The handlebar-mustached vandal has captured the imagination of the entire country after his animated car-smashing exploits outside the Minhajul Quran headquarters in Lahore's Model Town. Butt was captured on camera swinging away at vehicles parked outside Tahirul Qadri's religious centre, smashing their windscreens and headlights during the police operation to ostensibly remove encroachments from outside the building. The ill-fated operation ended in tragedy, leaving some 10 people dead and produced some of the most harrowing visuals of police brutality in a country that is no stranger to the phenomenon. Images of women and children being beaten with batons and injured protestors being struck continuously even as they were being carried off by paramedics for treatment have sent shockwaves throughout the country. Use of state power to browbeat dissent has been a common trend throughout Pakistan's history — but the police brutality and excessiveness in the Model Town tragedy aside, Gullu Butt is a side story, and a very important one at that. It is one of violence and vandalism sponsored by political parties through their civilian 'activists'.




Caught merrily dancing and celebrating as he damaged private property, Butt may be a comical character, and may have become the butt (no pun intended) of a number of jokes, but the trend of activist violence is no laughing matter. It has been reported that Butt is a well-known activist of the PML-N and is also being referred to as a 'police tout'. Ostensibly, a 'police tout' is someone who does the dirty work for the force — with open-licence and impunity and perhaps, even instructions. The visuals of Butt on a vandalism rampage show him doing his deeds in full view of the police, which stood behind him like an amused audience. At some points, he is seen embracing the police officer in charge of the operation and being congratulated for a job well done.

With the PML-N on the back foot following the tragedy of the Model Town incident, more emphasis is being laid on Butt's police connection, which is plain to see; but the more important connection is already being played down — the one with the PML-N. Many leaders of the PML-N have already disowned Butt in their statements, contradicting public reports of Butt's notoriety as a political activist for Punjab's ruling party. A few police officers' heads may roll, and Butt will be connected to them. At whose behest Butt was probably acting is likely to go unpunished. And that's where the real cover-up will take place.

Police brutality is one thing, but the impunity with which political activists operate across Pakistan for almost all mainstream political parties is a separate and equally important matter. What better example to give than the killing fields of Karachi, where political activists are involved in terrorising the public and no law-enforcing official dare lay a hand on them. If and when they are caught, they are released on political pressure. The phenomenon of political terrorism and activist impunity was also cited by the Supreme Court as one of the key reasons behind law and order breakdowns in Karachi. And that's the truth of the matter.

Just like it has been in the case of Butt, Karachi's political parties conveniently distance themselves from their activists when their actions are revealed or, if the connection is too strong, simply say that the activist was not acting on their instructions and did what they did of their own volition — perhaps even that they got carried away and their emotions got the best of them. While we know that in Karachi, we have the extreme manifestation of co-option of goons and use of activists to terrorise through parties' militant wings, the phenomenon is clearly not limited to the troubled port city. It is time political parties are held accountable for their activists' actions. Gullu Butt can be the starting point for a larger crackdown on political parties' militant wings.

Published in The Express Tribune, June 23rd, 2014.

Like Opinion & Editorial on Facebook, follow @ETOpEd on Twitter to receive all updates on all our daily pieces.
COMMENTS (12)
Comments are moderated and generally will be posted if they are on-topic and not abusive.
For more information, please see our Comments FAQ