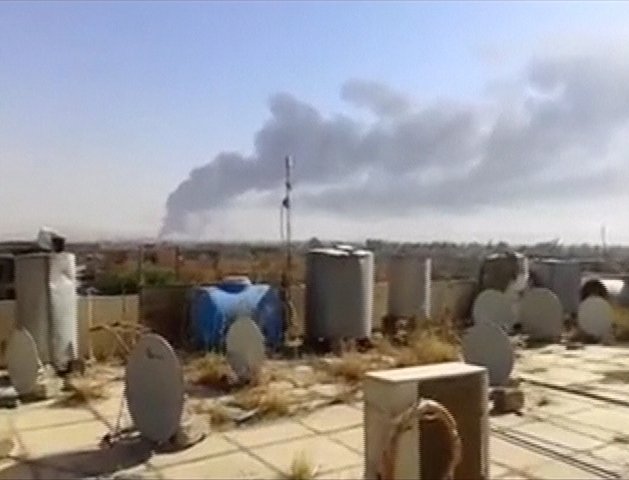 ---
BAGHDAD:



Baghdad asked Washington on Wednesday to carry out air strikes on militants who attacked Iraq's main oil refinery and seized more territory in the north, amid warnings the country's future was at stake.




The appeal came as fighters, led by the Islamic State of Iraq and the Levant (ISIL), were pressing an eight-day offensive, with Prime Minister Nuri al Maliki pledging to face down terrorism.

While officials touted progress, militants seized three villages in northern Iraq. "Iraq has officially asked Washington to help... and to conduct air strikes against terrorist groups," Foreign Minister Hoshyar Zebari told reporters in Saudi Arabia.

However, Zebari said "a military approach will not be enough. We acknowledge the need for drastic political solutions."

The United States spent billions of dollars over several years training and arming Iraqi security forces following the 2003 invasion that ousted dictator Saddam Hussein.

Washington has deployed an aircraft carrier to the Gulf and sent military personnel to bolster security at its Baghdad embassy, but President Barack Obama insists a return to combat in Iraq is not on the cards.

Iraq, meanwhile, has scrambled to repel the militant offensive, with Maliki firing disgraced security commanders and vowing to face terrorism and bring down the conspiracy. "We will teach (militants) a lesson and strike them," he said.

Maliki said that security forces, which wilted in the face of the offensive that overran all of one province and chunks of three more in a matter of days last week, had suffered a setback but had not been defeated.

With regional tensions rising, Iranian President Hassan Rowhani said the Islamic republic "will do everything" to protect shrines in Iraqi cities against the militant assault.

And Saudi Arabia warned of the risks of a civil war in Iraq with unpredictable consequences for the region, while the United Arab Emirates recalled its envoy to Baghdad, voicing concern over 'exclusionary and sectarian policies'.

The crisis, which has displaced hundreds of thousands of Iraqis, threatens to break the country apart, while the assault on Baiji oil refinery on Wednesday further spooked international oil markets.

Officials said security forces controlled the refinery, but clashes were ongoing, with Atta saying 40 militants were killed.

Several tanks containing refined products caught fire during the clashes. The refinery was shut down and some employees evacuated on Tuesday.

World oil producers have cautiously watched the unfolding chaos in Iraq, which exports around 2.5 million barrels of oil per day, and said that the country's vast crude supplies, mostly in the south, were safe for now.

But the militants' swift advance has sparked international alarm and the United Nations has warned that the crisis was 'life-threatening for Iraq'.

Published in The Express Tribune, June 19th, 2014.
COMMENTS
Comments are moderated and generally will be posted if they are on-topic and not abusive.
For more information, please see our Comments FAQ