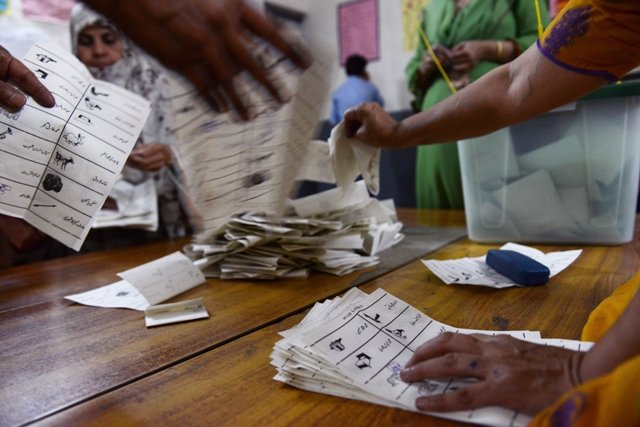 ---
ISLAMABAD: The National Database and Registration Authority (NADRA) had allegedly opened dozens of sealed ballot bags of NA-118 (Lahore) to tamper with the polled votes in May last year, informed officials.

PML-N candidate Malik Riaz had won from NA-118 in the May 2013 general elections but Pakistan Tehreek-e-Insaf candidate Hamid Zaman had challenged the result. Zaman later filed a writ petition in the election tribunal to challenge the success of Malik Riaz, citing claims of massive rigging.

NA-118 (Lahore) is among the four constituencies that PTI has pointed out in the election rigging controversy. The ballot boxes were at NADRA for thumbprint verification.

Officials told the Express Investigation Cell (EIC) that a group of top NADRA officials, comprising acting chairman, Mr Tajwar, Finger-Print Verification Unit (FPVU) director general Col Khalid Manzoor Khattak and FPVU project director Muzaffar completed the entire process of unsealing dozens of bags containing polled votes of NA-118. The NADRA men ensured that the bags had same number of votes as the notified number of voters cast. Justice Munir Mughal was representing PTI candidate Hamid Zaman to the thumbprint verification proceedings.

The Election Commission of Pakistan had sent the votes to Nadra after the elections for thumbprint verification, when complaints of rigging surfaced.

Since the NADRA officials realised the risk involved and the gravity of the illegal act, they took some precautionary measures. First, they switched off the CCTV cameras installed in that part of the NADRA office where they stored the bags on May 22 and May 26. The gang also made the part of the office selected for the 'task' a 'no-go area' even for other senior officials, officials described.

In reply to a detailed questionnaire, NADRA spokesperson Faik Ali only said that he could neither confirm not deny the incident.

The act by the accused NADRA officials raises the question mark on the credibility of the Election Commission of Pakistan, say officials. Moreover, they reveal that the thumb verification process of NA 118 Lahore had a direct link with the sacking of Tariq Malik as NADRA chairman.

Tariq Malik had confirmed at an early stage that NADRA had the technology to verify thumbprints of voters. Soon after this announcement, Malik was dismissed from his post, EIC was informed.

The court had restored Tariq Malik but he later opted to quit the job when pressured. He was also facing threats of kidnapping and he soon left the country, officials added.

Published in The Express Tribune, June 7th, 2014.