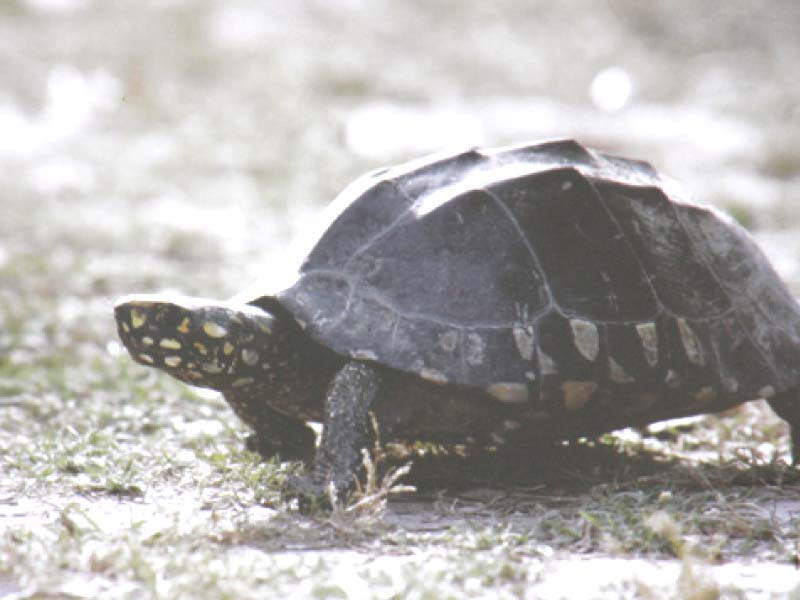 ---
KARACHI:



Marine experts and environmentalists say that the green turtle is an iconic species for Pakistan and may be declared as its national marine animal.




In a seminar on World Turtle Day on Friday, organised by the World Wide Fund for Nature-Pakistan (WWF-Pakistan) and Karachi University's Institute of Marine Sciences, the speakers asked for the preservation of the turtles and said that awareness of their importance should be spread to the masses.

"The turtle is a wonderful animal and we all have to protect it," said environmentalist, animal activist and former director of the Karachi Zoological Garden, Dr A A Qureshi. He feared that fishing operations, pollution, habitat degradation and climate change may wipe out precious marine life, including the majestic green turtles of Pakistan.

WWF-Pakistan technical adviser Muhammad Moazzam Khan said that the main cause of turtle enmeshment is the ever increasing gillnets fleet and ghost fishing gears, rather than the general perception that shrimp trawl fishing is their main threat.

Khan informed that two turtle species, including the green turtles and the olive ridley turtle, nest along the coast of Sindh and Balochistan. "There was no authentic record of the nesting of olive ridley turtles in Pakistan for the past 11 years," he said. "However, studies carried out by the WWF-Pakistan have recently found a very large population of olive ridley turtles on offshore waters."

He claimed that, on average, 4,800 green turtles and 28,000 olive ridley turtles get entangled in tuna gillnetting in Pakistan every year. "However, only 0.2 per cent of these turtle die since the fishermen release all the turtles that get entangled in the nets."

Help save them

Sindh Wildlife deputy conservator Fahmida Firdous said that a programme for the rescue of turtles and protection of nests is going on and an awareness campaign has also been initiated. "It showed positive results that not only helped in saving these threatened animals but also raised awareness regarding marine turtles," she said. "To preserve them is of biological and national importance. If we disturb them, the whole food chain will be disturbed."

Firdous suggested that the entire area from Manora Island to Hawke's Bay should be declared a marine turtle seserve.

WWF-Pakistan's Umair Shahid said that a rise in temperature will alter the reproductive and feeding patterns of marine turtles. "Rise in sea level because of climate change will inundate turtle nesting and turtle physiology and migration will be seriously affected," he added

Clean beach for protection of marine turtles

The International Union for Conservation of Nature Pakistan also celebrated the day at the Sandspit Beach, where students of different schools took part in beach cleaning activities. "Turtles are a very important part of our biodiversity," said Mangroves for the Future national coordinator Ghulam Qadir Shah. He said that Sandspit and Hawke's Bay are among the 11 most important beaches for turtle nesting in the world. "According to statistics, around 6,000 turtles used to visit these two beaches but the number has dwindled over the years, due to different types of threats to them, including litter on the beaches; which causes more predators to prowl the area and hunt sea turtles as they crawl to the sea."

Published in The Express Tribune, May 24th, 2014.
COMMENTS (1)
Comments are moderated and generally will be posted if they are on-topic and not abusive.
For more information, please see our Comments FAQ