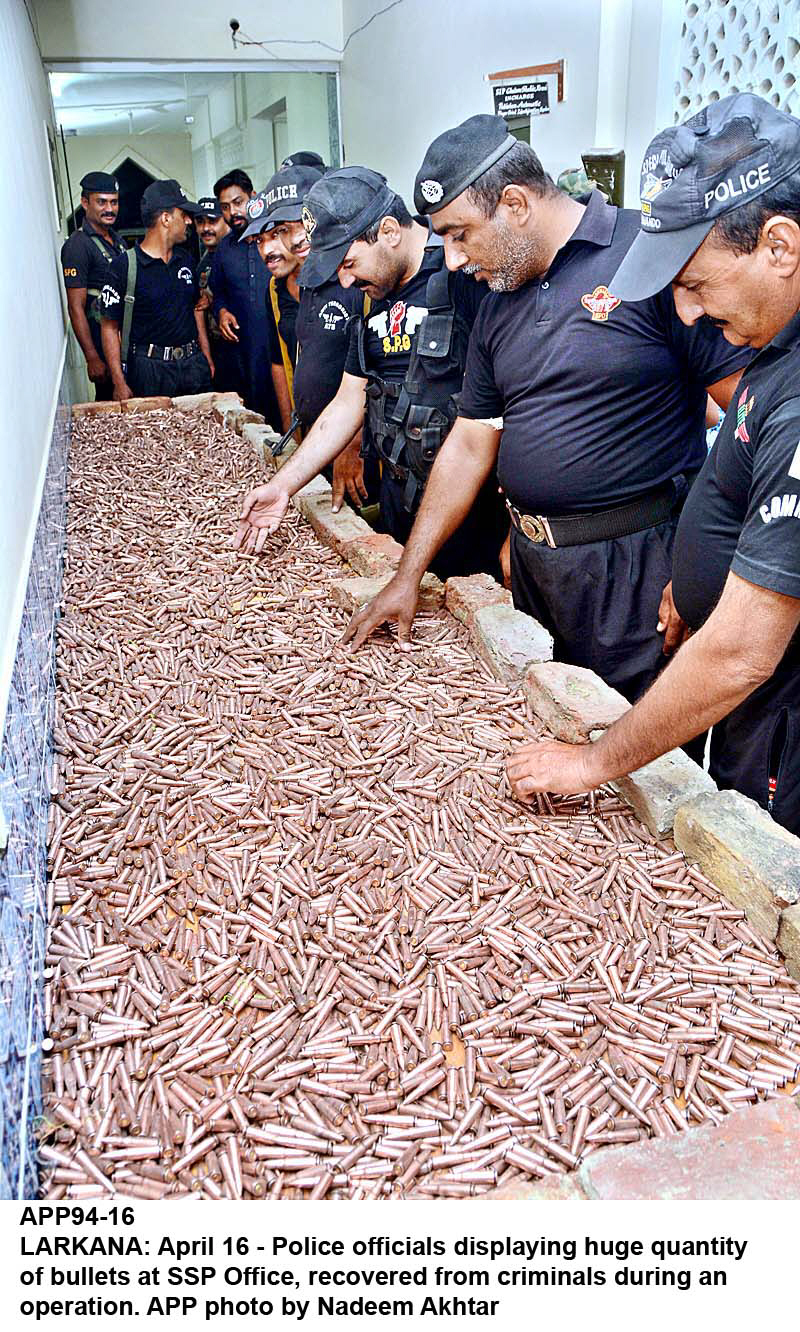 ---
SUKKUR: Larkana police found thousands of bullets buried under a mosque during a raid in Golo Khan Chandio village in Qamber Shahdadkot on Wednesday night.

The police also arrested a few suspects in the raid but the main suspect escaped. Acting on a tip-off, the police team headed by Headquarters SP Abrar Hussain reached the village within the limits of Mahi Makool police station and raided the house of a man named Shahnawaz Chandio.

Shahnawaz escaped long before the police came but he left behind 10,900 Kalashnikov bullets hidden in the debris of a demolished mosque near his house. The police later arrested a few other suspects but refused to disclose their names, said SP Hussain.

According to him, these bullets were to be supplied to terrorist elements in Karachi and to the bandits and criminals engaged in tribal feuds in rural Sindh. When asked about the involvement of some influential persons in the business, he said that their involvement could not be ruled out. "But so far, we don't have any such clues," he said. Further investigations are underway and the culprits will be caught very soon.

Talking to the media in Larkana on Wednesday night, SSP Khalid Mustafa Korai claimed that the raid was jointly conducted by the personnel of an intelligence agency and the police. The team had received a tip-off that Aslam Khan, a resident of Peshawar, was trying to smuggle a large number of bullets to Karachi. Since the police had cordoned off several routes, Khan was forced to leave the smuggled goods at Shahnawaz's house.

According to a source, several smugglers like Khan are busy providing arms and ammunition to militant groups in Karachi and bandits in rural Sindh. This practice has been going on for a long time and several influential landlords and Sardars are allegedly involved in this scam, he said.

Published in The Express Tribune, April 18th, 2014.
COMMENTS
Comments are moderated and generally will be posted if they are on-topic and not abusive.
For more information, please see our Comments FAQ