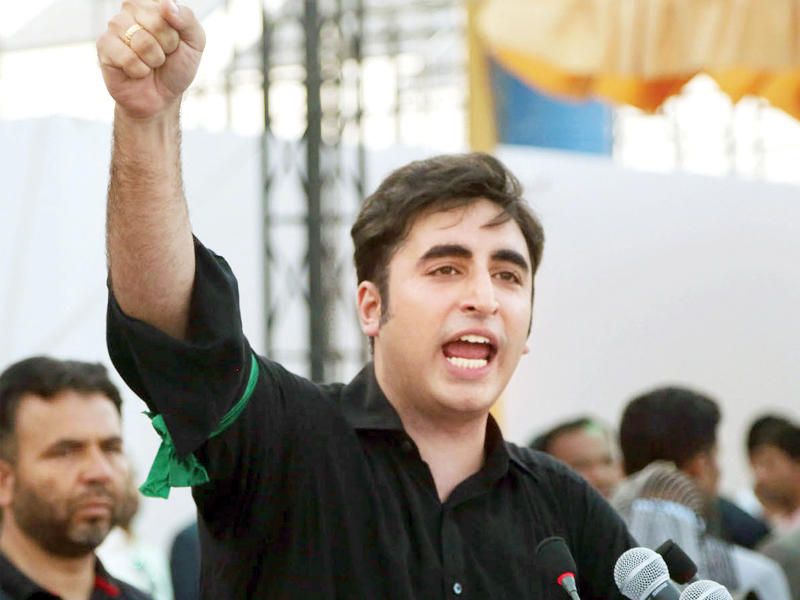 ---
SUKKUR:



The patron-in-chief of Pakistan Peoples Party (PPP), Bilawal Bhutto Zardari, on Friday came down hard on the government for its peace initiative saying that "Bhutto's grandson is alive and ready to take the challenge".




He blamed the government for 'creating a mess' by pursuing direct talks with militants. "This mess will be washed by the blood of martyrs," he said while referring to the sacrifices rendered by his grandfather Zulfikar Ali Bhutto and mother Benazir Bhutto.

Addressing a huge public gathering at Garhi Khuda Bakhsh to mark the 35th death anniversary of Zulfikar Ali Bhutto (ZAB) on Friday, Bilawal warned that once again daughters will be buried alive if the 'zalimaan' succeeded in imposing their ideology on the country. Criticising the peace initiative, he said when the Quaid-e-Azam was creating Pakistan, such elements had opposed him but "today, we are negotiating with them".

About his grandfather, he said, "Zulfikar Ali Bhutto gave the world the vision of a modern Islamic nation and he was the hope for the common man. He gathered leaders of the Muslim world and gave this nation the nuclear bomb." Bilawal said that "this country needs a Bhutto one more time". If his grandfather had not been martyred, the country would not have been in this situation today, Bilawal claimed.

Referring to his mother also as a martyr, he said, she, being a woman, challenged the Taliban, which was actually her jihad against oppression and illiteracy. "Therefore, I say Bhutto Khapay, Bhutto Khapay (long live Bhutto)!"




Drought-hit Thar is 'intolerable'

Bilawal called the drought in Tharparkar 'intolerable' and said it was the result of years of neglect. He did not name former chief minister Arbab Ghulam Rahim, but nevertheless, he implicitly blamed him for the conditions in Thar as he was elected from the area but paid no attention to the dire problem.

He announced that clean drinking water will reach each and every part of Thar by 2018.  "We cannot stop floods and earthquakes, but we can certainly combat poverty and unemployment," he added.

In its tenure, the PPP had initiated the Benazir Income Support Programme and Waseela-e-Haq for the poor, but the present government has withheld funds for these schemes. Addressing Prime Minister Nawaz Sharif, he said, "Mian Sahib, you visited Thar and announced a relief package, but you stopped the funds for BISP."

Criticising the PML-N government, he said it was trying to sell the country's assets in the name of privatisation, but "we see that it's personalisation".  He added that the provinces had a 50% share in national assets and his party would not allow the federal government to usurp the rights of the provinces.

"The federal government claims that it doesn't have money to run the country and so I ask them, will you then sell your country for money?" he said, referring to the recently received $1.5 billion cash 'gift' from Saudi Arabia.

Zardari worried about present conditions

In his address, former president and PPP co-chairman Asif Ali Zardari expressed his anxiety over the problems prevailing in all Muslim countries, saying that Zulfikar Bhutto had worked hard for the unity and prosperity of the Muslim world.

The Muslim world was faced with difficulties we stood with them, but we did not put ourselves in danger. "Today we need to make all efforts to save Pakistan and bring an end to prevailing sectarianism in the country," he said.

Echoing Bilawal's statements, he said, "Martyrs never die! Long live Bhutto!"

Published in The Express Tribune, April 5th, 2014.