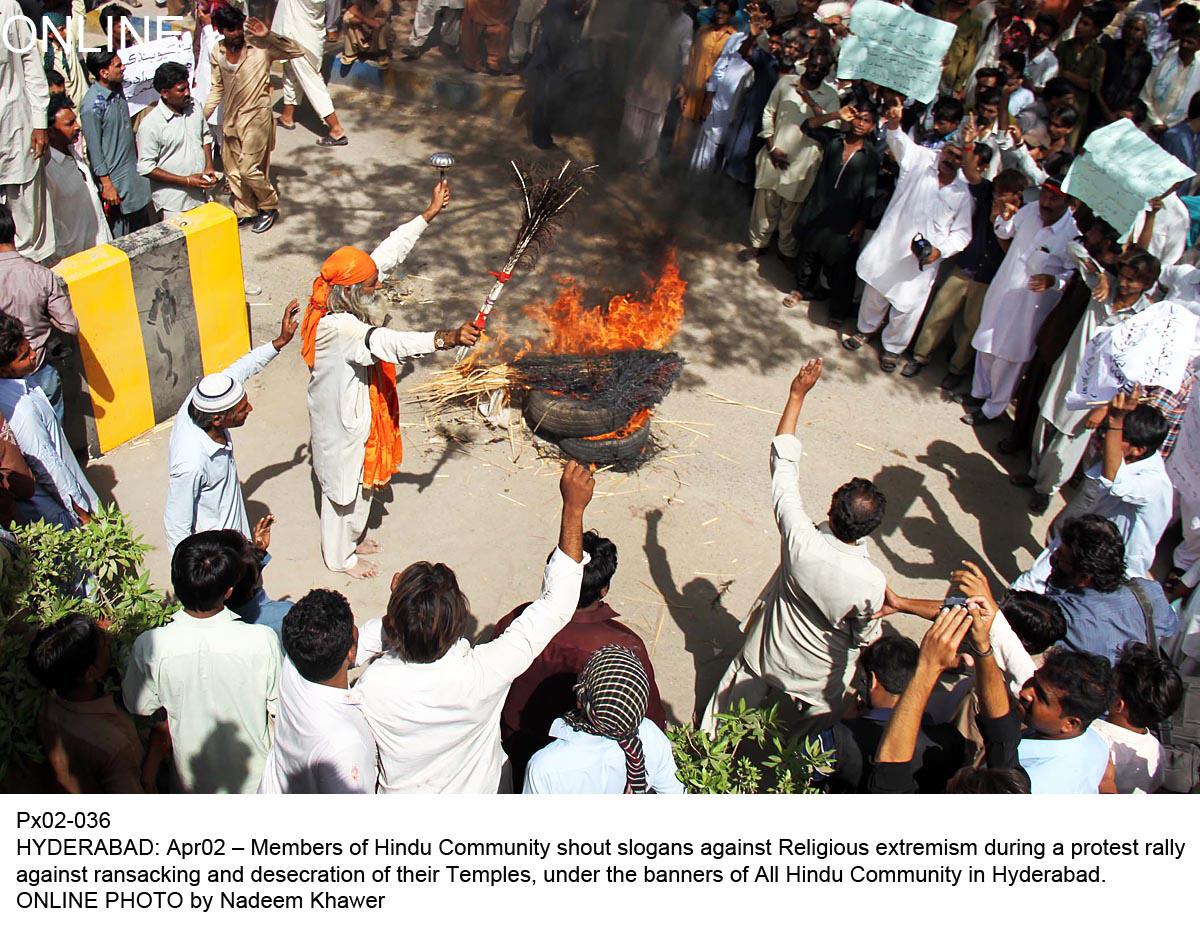 ---
HYDERABAD: Thousands of Hindus from different districts of Sindh converged outside Hyderabad Press Club on Wednesday to protest the attacks at their places of worship. In their slogans, they called the sacrilegious attacks a conspiracy to force Hindus out of Sindh.

"In less than a month, there have been six incidents of desecration of our temples, ashrams and graveyards in Sindh," said former MNA Kishan Chand Parwani, who also heads the All Pakistan Hindu Panchayat. "We don't believe that any foreign hand is involved. Some local elements want us to migrate from the country."




These sentiments reflect the unease among the community after districts of Sindh, known for their inter-faith harmony, suffered sacrilegious attacks over the last month.

Parwani came down hard on the Sindh government for failing to protect the minorities. "We appeal to the leadership of the Pakistan Peoples Party (PPP) to remove Sindh Chief Minister Syed Qaim Ali Shah for his incompetence and failure to address our concerns in the last six years."

However, Parwani expressed the resolve to remain steadfast in the face of such incidents to prevent anyone from leaving. "We are Sindhi Hindus and Sindh belongs to Hindus. We will never leave our motherland."

Another panchayat leader, Gopal Malhi, lamented that his community is already dealing with forced conversions of underage girls after marriage into Muslim families. "The properties of Hindus are being encroached upon. Around 600 acres of a dharamshala in Mirpurkhas has been occupied," he claimed.

He urged religious leaders of the Muslim community to play their part for inter-faith harmony.

Pakistan Muslim League-Functional's MPA Nusrat Seher Abbasi blamed the provincial government. "The PPP's government has failed in every aspect of governance," she said. "The Hindu community has been protesting against various issues for several years but none of their concerns have been addressed."

The protesters demanded the government expose the criminals involved in the attacks and boost security at their places of worship. The Hindu temples, ashram and graveyards have been desecrated in Larkana, Badin, Hyderabad and Tharparkar in separate incidents in the month of March.

Published in The Express Tribune, April 3rd, 2014.