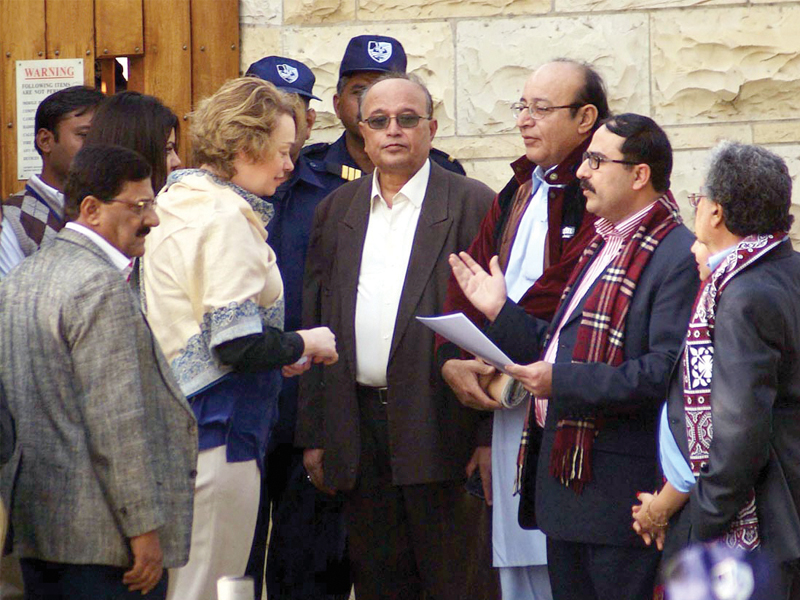 ---
KARACHI: Scores of Sindhi writers, poets, journalists and civil society activists staged a protest at the British High Commission, handing over a memorandum of compliant against the Muttahida Qaumi Movement (MQM) chief Altaf Hussain, asking the British government to ask Hussain to avoid provocative and seditious speech in Pakistan.

The rally, which started from Do Talwar, was not allowed to proceed towards the High Commission by law enforcers due to security reasons. After negotiations between the police and the participants, the rally was stopped at a distance from the commission and four representatives of the Sindhi Writers and Thinkers Forum were allowed to meet British officials.

Two officials of the British Commission met Dr Akash Ansari, Prof. Mushtaq Mirani, Jami Chandio and Dastaghir Bhatti at the office gate where they complained that Hussain was trying to incite ethnic violence in Sindh.




"The Commission officials assured us that the complaint would be sent to the British government today," said Chandio. "Altaf Hussain is a British national and he has no right to interfere in Pakistan's political affairs," he added. Chandio said that he had registered a protest before the officials that the Sindhi people would consider the British government complicit with Hussain if action was not taken against him.

Dr Ansari said that there was unrest across Sindh after the recent statement by Hussain, saying that a foreigner had no right to interfere in Pakistani politics.

Hundreds of police officials were deployed in the vicinity. The rally participants were asked again and again not to move further and it was also learnt that police were given instructions to use tear gas if they moved towards the Commission.

Participants carried placards bearing the words, 'Stop conspiracy against Sindh', 'Division of Sindh not acceptable', Pakistan is if Sindh is', and a large banner of 'UK government should take notice against Altaf Hussain for making proactive and seditious speech against Sindh' and raised slogans against Hussain and his recent statement.

Published in The Express Tribune, January 7th, 2014.
COMMENTS (3)
Comments are moderated and generally will be posted if they are on-topic and not abusive.
For more information, please see our Comments FAQ