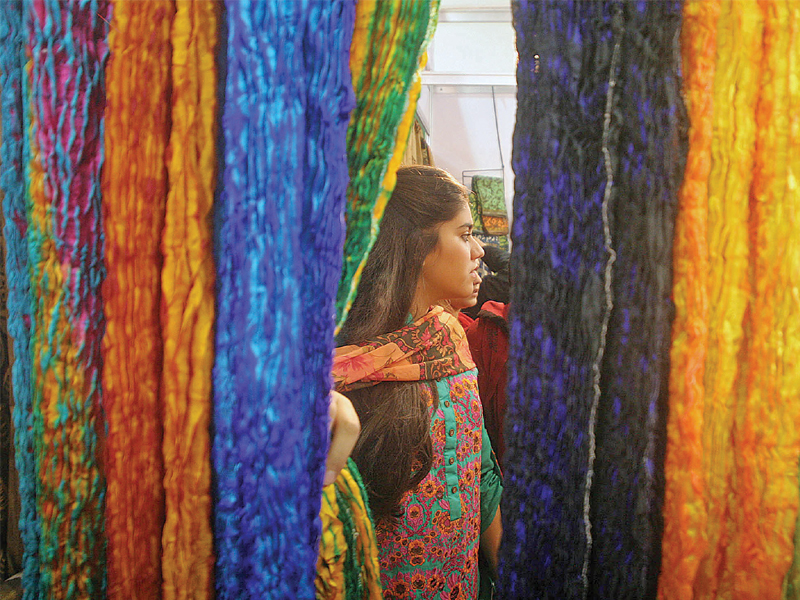 ---
KARACHI: If you want to get your hands on some Indian jewellery or clothes, head down to the Karachi Expo Centre, where businesses from across the border are exhibiting their products.

The three-day Indian Expo started on Friday but failed to attract a huge crowd. "It is first day of the exhibition but we hope a vast crowd will turn up over the weekend," hoped fashion and jewellery designer from Ludhiyana Voila Kapoor Aditya. The jewellery at her stall, which includes various kinds of stones, ranges from Rs1,200 to Rs100,000.

The exhibition, which is being supported by the Federation of Indian Exporting Organisation (FIEO) in collaboration with the Karachi Chamber of Commerce and Industry (KCCI), was inaugurated by the Indian High Commissioner to Pakistan, TCA Raghavan. KCCI president Siraj Qasim Teeli and vice-president Amin Motivala were also present.




A Mumbai-based jewellery designer, Asma Maniar, 22, said that Indian jewellery is not only available at reasonable prices but the quality is good as well. "We received great response last year that encouraged us to exhibit again in Karachi," she added.

What motivates this group of traders to leave their homes? We want to revive ethnic traditional art that existed years ago, for example, fabric weaving and spinning and bring them to Pakistan," explained Sunil Vaid, 55. Vaid is a fashion designer and artist based in Delhi and is also a committee member of the World Batik Council. His products can be bought for anywhere between Rs700 and Rs3,500.

Around two dozen stalls were set up at the exhibition but jewellery and clothes remained the centre of attraction for women. Apart from these popular ones, some traders were also looking for buyers of Ayurvedic products and herbs, such as ispaghol, flax seed, kalongi, yellow mustard,mukhwas, chooran, pickles, surgical appliances, perfumes, different types of Indian oil and shampoo that the companies claimed will help with quick hair growth.

"Ayurvedic products are very popular in India because they are effective, affordable and made with natural herbs," said Pardeep Cholayil, adding that the company would like to introduce such products to Pakistan and is looking for distributors. "Our soaps help fix skin problems, blemishes, soften and brighten skin and the result is visible after a person uses three soaps," he claimed.

Sterimed director Sarabjot Singh, 54, showed a disposable surgical medical device. "I don't think such products are manufactured in Pakistan so we wish to introduce them here and are looking for channel partners," he said.

The exhibition will conclude on Sunday, and the companies are hoping to sell all their products by them so they don't have to take them back to India.

Published in The Express Tribune, December 14th, 2013.