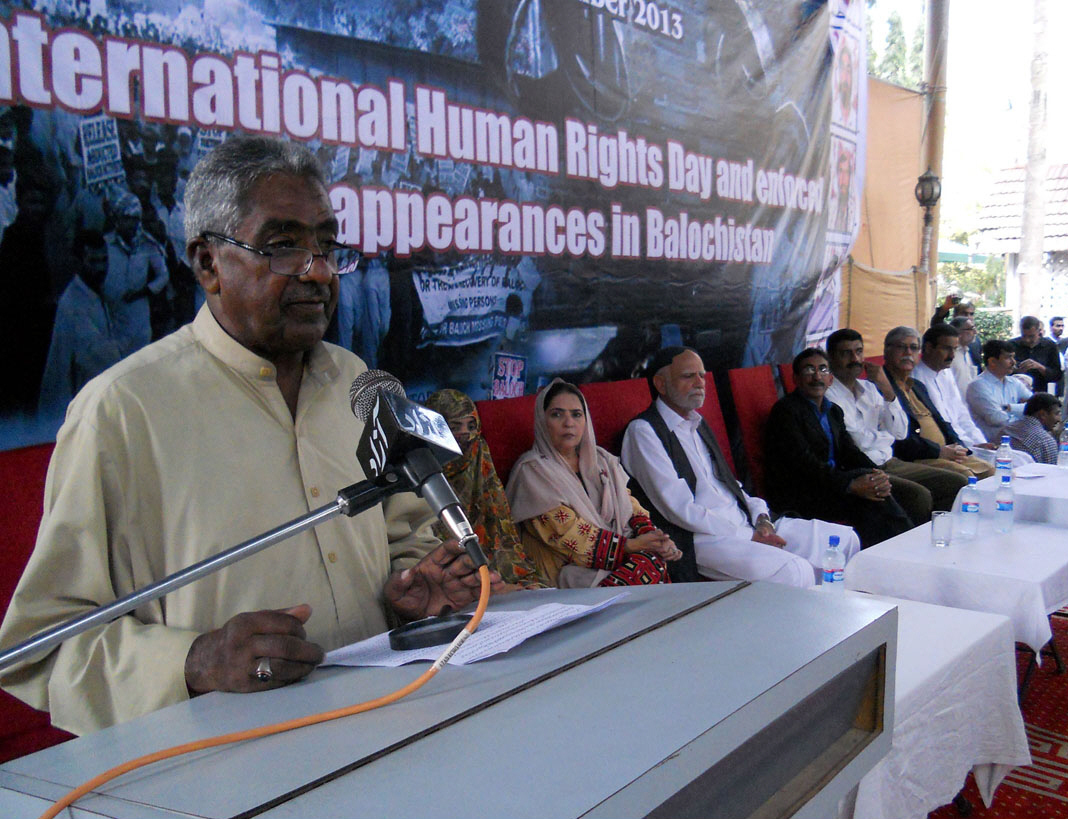 ---
KARACHI: The families of the missing Baloch men may have lost faith in the government but they still vow to carry on their struggle until each and every man returns home.

At a seminar titled 'International human rights and enforced disappearances in Balochistan' organised by the Voice of Baloch Missing Persons at Karachi Press Club on Tuesday, its vice-chairperson Mama Qadeer Baloch shared how he has dedicated his life for the recovery of '18,000 missing persons'.

"My son was abducted and his tortured body was found later," he said on the occasion of the International Human Rights Day. "My aim is now to safely recover thousands of missing Baloch men."




Baloch now plans to take his movement to the capital. "Every missing Baloch is important to us. But why is the state treating us inhumanely? Is it because we are demanding our rights?" He said that if the abducted men are criminals, they should be produced in courts and given the opportunity to prove themselves. The Baloch leaders also appealed to the UN and international organisations to put pressure on the Government of Pakistan.

Writer and journalist Mohammed Hanif spoke about journalist Haji Abdul Razzaque, who was abducted from Karachi. "His body was so mutilated that his own family could not recognise it." Hanif said the missing men are not actually missing. "They are not missing as someone knows where they are. Everyone knows that they have been taken away by those whose salaries are paid by us." What is happening with the Palestinians is wrong but records of every man abducted there is present, unlike Balochistan, he said.

Mohammad Ali Talpur appreciated how the current movement has become huge as the whole Balochistan province and people from other parts have joined it. "Our aim is to find our precious ones." Meanwhile, Human Rights Commission of Pakistan's Asad Butt warned the forces to stop atrocities. If injustice does not stop, then every child would be picking up arms, he warned.

Sister of missing Zakir Majeed, Farzana Majeed, said she has lost her health not hope. She read out pieces of the Vienna declaration on human rights, and said that the country had constantly violated it. These forces violate the Constitution by picking up men, torturing them and throwing up their bodies, she claimed.

Journalist Saeed Sarbazi said that while the atrocities against the Baloch started during the times of a dictator, their intensity increased in democratic governments. "Mutilated bodies increased in Zardari's government which is still going on even today."

Nargis Baloch, of the Roznama Intikhab said there was only puppet democracy in Balochistan as the province was, she claimed, governed by the Frontier Constabulary. "President Mamnoon Hussain can go to attend the funeral of Nelson Mandela but can't come and face the problems of his own people?" The families of missing persons also spoke on the occasion.

Published in The Express Tribune, December 11th, 2013.