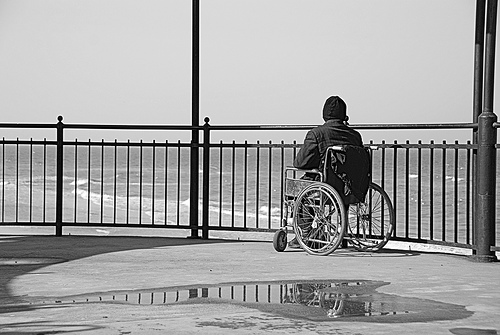 ---
FAISALABAD:



Persons with disabilities face many barriers that prevent them from participating in public life, Association of Women for Awareness and Motivation executive secretary Naseem Anthony said on Saturday.




He was speaking at a moot titled Breaking Barriers and Opening Doors for Creation of an Inclusive Society organised by the AWAM, the Beacon Foundation for Visually Impaired Persons (BFVP) and the Society of Disabled People for Rights and Development (SDPRD).

The participants called for comprehensive legislation to protect "disability rights" and cater to the needs of persons with disabilities.

More than 80 people with disabilities, their families, activists, media personnel and government officials were present at the event. The AWAM screened a documentary highlighting the issue.

Anthony said, "An inclusive and equitable development programme is required to integrate and empower persons with disabilities."

Lack of policy coherence and coordination, the absence of specialised institutions and limited action on the ground have contributed to confining disabled people to the fringes of society, he said. The government must introduce a new law in line with international conventions on disability to create a barrier-free society to protect the rights of the disabled, said Anthony.

AWAM Coordinator Shazia George said, "Negative attitudes and inaccessibility confine women with disabilities to four walls."




She said, "Our patriarchal society does not allow women with disabilities to progress. Such attitudes create a hostile environment for them even at home and demoralise them."

The government must provide ramps, lifts and other support facilities in public buildings to ensure accessibility," she said. "Persons with disabilities deserve to lead a dignified life. They should be provided easy access to roads, parks, shopping malls, schools and universities."

Beacon Foundation president Rana Yasir Nadeem said persons with disabilities face a multitude of social, economic, physical and political barriers that hamper their inclusion in the society.

"The government should launch schemes and programmes that can help persons with disabilities become confident and productive members of the society," he said.

Social Welfare Department Medical Social Officer Zahida Naz said that lack of opportunities and infrastructural barriers created problems for persons with disabilities. She said they even faced problems with the disability registration process. "Currently three departments deal with the disability registration process at these locations. We could start by making the registration process easier," Naz said.

"The government is aware of their needs and is committed to helping them lead dignified lives, promote an understanding of disability issues and mobilise support for their rights and well-being," she said.

Social Welfare Department District Officer Wahida Iftikhar said "There are no particular programmes in Pakistan for the employment of persons with disabilities."

She said persons with disabilities can become productive members of the society if provided skill-based employment opportunities. The civil society and government need to encourage and enable them to stand on their own feet, said Ifitikhar.

AWAM executive director Nazia Sardar said, "Merely drafting a law is not enough. The law is useless unless enforced."

The number of persons with disabilities is more than 10 per cent of the population, but the quota for persons with disabilities is only 2 per cent, she said. The quota must be increased and a monitoring mechanism introduced to stop their exploitation, she said.

Published in The Express Tribune, December 8th, 2013.
COMMENTS
Comments are moderated and generally will be posted if they are on-topic and not abusive.
For more information, please see our Comments FAQ