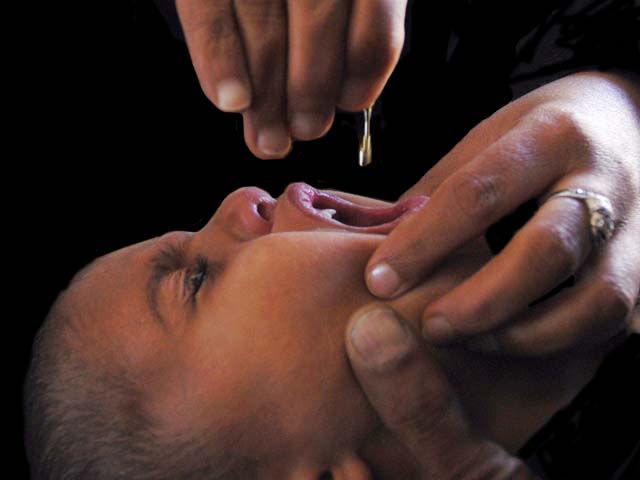 ---
ISLAMABAD:



Unchecked migration of people from polio-endemic zones to other parts of the country is putting millions of others at risk after polio vaccination was banned in the tribal areas.




This was said by Minister of State for National Health Services, Regulations and Coordination Saira Afzal Tarar in a joint press conference with international partners in connection with the World Polio Day on Thursday.

"If we cannot access children in Waziristan with the crucial polio vaccine during the ongoing low transmission season from November to April, we will not be able to stop polio transmission. This region will then be seen globally as the only hurdle towards a world free of polio," said Tarar.

This can result in imposition of international travel restrictions on Pakistanis going abroad which will be a matter of embarrassment for the nation, she said.




"Fatal attacks on polio teams and inaccessibility are major challenges that the country faces in its fight against polio. It is feared that with the recent outbreak of polio in the Federally Administered Tribal Areas (Fata), the number of polio cases in the country may rise above 49," she said

Around 260,000 children in North and South Waziristan have not been vaccinated against polio since July 2012. Moreover, more than 90 per cent of the current polio cases in the country are linked to the outbreak in North Waziristan and other parts of Fata, Tarrar added.

"There is a certain group of people who says that the anti-polio vaccine is unIslamic or that they will only give access to polio workers if drone attacks are stopped," said Tarrar. "Parents want their children to be vaccinated and are moving to other parts of the country."

We have national and international experts and adequate funding but still we are unable to achieve our targets, she said. Speaking of parental refusals, she said since February 2010 to September 2013, the number of parental refusals has increased from 62,691 to 65,423, but said it was not a big issue and efforts were underway to address it.

During the last anti-polio drive held in September this year, the number of refusals reported in Khyber-Pakhtunkhwa was 36,923, followed by 18,639 in Sindh, 8,001 in Balochistan, 1,073 in Punjab and 530 in Fata.

Need for coordination and oversight

Ensuring accountability at all levels and accessibility for polio workers have always been a challenge but the situation worsened when the caretaker government in June devolved the Prime Minister Polio Monitoring and Coordination (PMCC). The disruption in the coordination and monitoring of polio eradication at the central level was a major setback to polio eradication.

International donors expressed serious concern and displeasure over this initiative. Later the PMCC was restored under the Ministry of Health Services, Regulations and Coordination. Its office which was previously inside the PM Secretariat has also been moved to the National Institute of Health.

A senior official working closely with the PMCC, requesting anonymity said former focal person for polio Shehnaz Wazir Ali's decision to empower deputy commissioners who are employees of the federal government at the expense of executive district officers led to more effective polio campaigns. Provincial health officials also took her advice seriously, because of her political connections, he added. The official said that in a recent meeting some provincial authorities raised questions regarding the jurisdiction of the federal Ministry of Health Services.

Published in The Express Tribune, October 25th, 2013.