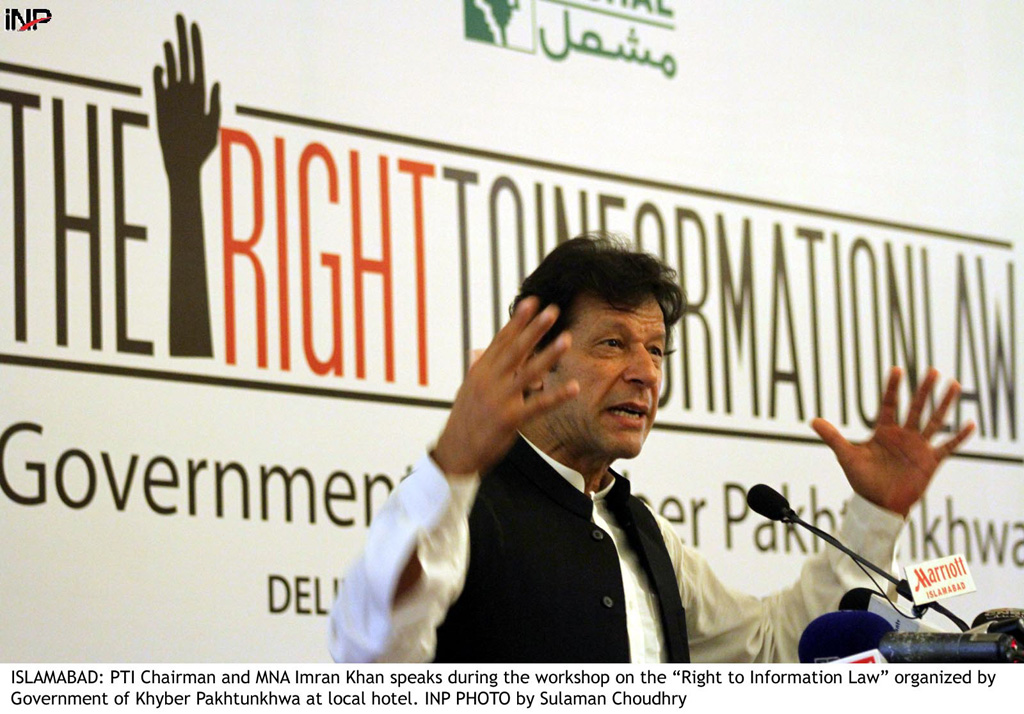 ---
LAHORE: Pakistan Tehreek-e-Insaf's (PTI) chairman Imran Khan during a press conference in Lahore said that "record rigging" took place in the May 11 elections in the NA-256 constituency, Express News reported on Tuesday. He expressed fear that the by-elections would see similar rigging if action was not taken.

He further said that the people involved, including the returning officers, should be held accountable for what they have done.

Imran requested the Chief Justice Iftikhar Muhammad Chaudhry to take action immediately as "the public is demanding justice".

He also stated that if the Supreme Court had taken notice of rigging earlier, then this would not have happened.

The PTI chairman also said, "The election commission should also be held accountable. Without accountability, corruption will never cease to exist and the public is then burdened in terms of inflation."

He also stated, "Democracy will not prevail until and unless free and fair elections are carried out. Dictators carry out such [May 11] elections."

"How can people involved in the rigging become clean in the Assembly," he asked.

Imran also said that if justice is not done then the PTI will protest in the streets.

He claimed that PTI was not part of the rigging in the elections, and the party will also hold free and fair by-elections in Khyber Pakhtunkhwa (KP).

MQM's stance

Muttahida Qaumi Movement (MQM) has maintained that there is a difference between an "unverified vote" and a "fake vote", and it was not the party's responsibility to ensure that the ballot papers during the general elections were of good quality or that magnetic ink was used for thumb impressions.

Holding a press conference on Tuesday, MQM leader Faisal Subzwari said that votes could not be verified in other constituencies as well, but only the one where an MQM candidate won was highlighted.

"During August 22 by-polls, army personnel were present inside polling booths, and MQM still won... If NADRA does the same exercise in those constituencies, the same issue of unverified votes will come up," he added.

Rigging in NA-256 consituency

The National Database and Registration Authority (Nadra) had unearthed massive rigging in the National Assembly constituency, NA-265 (Karachi), in the May 11 elections.

According to a report submitted by the authority before an election tribunal on October 7, over 57,000 votes could not be verified in the constituency where 5,893 duplicate and 1,950 fake votes were cast.

Muttahida Qaumi Movement's Iqbal Muhammad Ali had won the seat, defeating PTI's Muhammad Zubair Khan, who later challenged the result of 67 polling stations before the election tribunal.

According to Nadra invalid Computerised National Identity Cards were mentioned on 11,343 used counterfoils, while 791 voted were found to be out of the constituency.