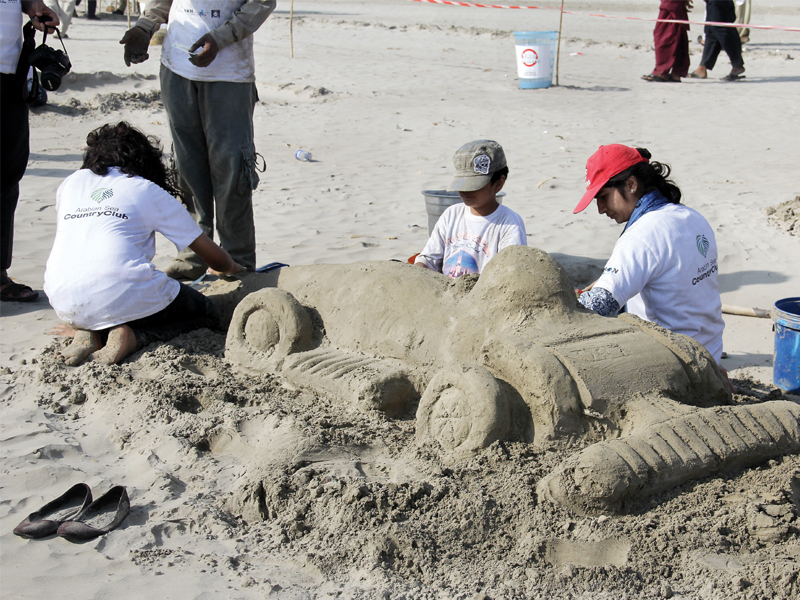 ---
KARACHI: Fast-blowing wind and sand at Sea View, Clifton, did not deter school-going children from showing their talents in building sand sculptures and sandcastles at the 'Third Sandcastle Building Competition' on Sunday.

Around 100 men, women and children from various parts of Karachi, particularly Clifton and Defence, gathered at the competition organised by a youth organisation, Let's Build On.

Separate piles of sand and space were allotted to every participant. "It is a part of our theme, 'Clean Beach Clean Karachi,' and we have arranged 10 different activities to create awareness about keeping the beaches clean in Karachi. We believe if we keep our beaches clean, we can use it for more activities," said the organisation's founder, Muntazir Mahdi. The organisation conducts clean-up drives at the beach along with sports and entertainment activities for the citizens every year.

Mohammad Ali and his team, who build 'The Mummy Tomb', an Egyptian tomb, won the first prize, while the second prize went to Shah Nawaz Khan Durani and Mohammad Faisal Khan who build Quaid-e-Azam's mausoleum and the team of former Karachi commissioner Roshan Ali Shaikh won the third prize with their sand sculpture of a Cobra snake.

Compared to previous competition, this one attracted fewer people, but those who got there were busy building sculptures of elephants, sharks, mermaids, castles and models of Quaid-e-Azam mausoleum.

Children and parents gathered around Syed Arif Hussain, a sand sculptor, who regularly showcases his skills at Sea View. He built sandcastles of Derawar Fort, Taj Mahal and Eiffel Tower. "I made this fort in three hours and now I am teaching children to build their own," said Hussain.

The former Karachi commissioner said, "This is good and constructive thinking. It will create awareness about cleanliness at the beaches and provide healthy entertainment to the people.". Amin Rehman, a former banker, who came with his grandchildren, lauded the efforts of the organisers. He advised more people would have come to the competition if it was arranged early in the morning. "Such activities help citizens forget about terrorism and enable them to enjoy their life. It is an opportunity for the people to know each other," said Rehman.

Tabassum Mahmud, a meditation teacher at a montessori school in DHA Phase-VIII, invited people to the beach to hear the sounds of nature. "I come here daily to appreciate the sounds of nature and I have invited my students to participate in the competition," said Mahmud. According to her, if someone comes to the beach regularly, they will learn to hear the sounds of nature and ignore the noise of horns.

Published in The Express Tribune, September 23rd, 2013.