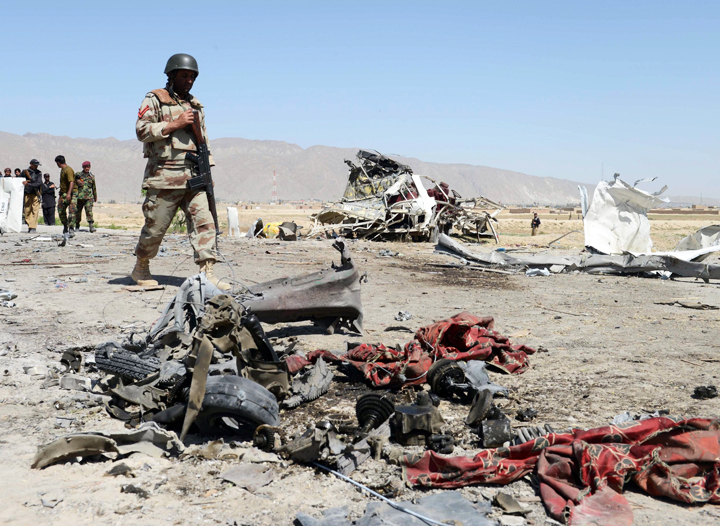 ---
Chief Justice of Pakistan, Iftikhar Chaudhry took notice of the deteriorating law and order situation in Balochistan following Eid and pre-Eid attacks that caused over 40 deaths.

The Chief Justice's notice comes even as a security convoy was targeted on the west bypass in Quetta today, leaving three security officials injured.

The Chief Justice has passed the following order through a press release:

"It appears that the situation of Balochistan is deteriorating day by day and there is hardly any preventive action in sight to protect the citizens. The people are suffering acts of violence and are facing insecurity. The successive incidents of terrorism caused death of several innocent persons."

A notice will be issued to the Attorney General for Pakistan, Advocate General Government of Balochistan, Secretary Interior Government of Pakistan, Chief Secretary, Government of Balochistan, Home Secretary, Government of Balochistan, Inspector General of Police, Government of Balochistan and IG, FC Quetta to submit reports explaining the government's policy to combat the incidents of violence and terrorism -- and to appear before the court on August 15th in Quetta.

Mayhem in the province

August 6th: gunmen disguised as security personnel killed 11 civilians and two security men near Mach Town in Bolan District. Most of the victims were Punjabi labourers. The coaches were leaving from Quetta. The banned Baloch Liberation Army (BLA) claimed responsibility for the killings.

August 8th: SHO Quetta City, Mohibullah was killed while his children were wounded and were shifted to Civil Hospital.

On the same day another more violent incident took place in Quetta when a lone suicide bomber killed at least 30 members of the Police force including DIG Fayyaz Ahmed and an SP.

August 9th: Gunmen killed 10 people and wounded several others after opening fire outside a mosque on the outskirts of the Quetta City. Armed persons taking position outside the Jamai Farooqia Mosque opened indiscriminate fire targeting reportedly former Provincial Minister Ali Madad Jattak and his guard when they were leaving the mosque after offering Eid prayers.
COMMENTS (25)
Comments are moderated and generally will be posted if they are on-topic and not abusive.
For more information, please see our Comments FAQ